IRVINE, Calif. – While there were multiple noteworthy plays, Tuesday's practice at Rams Training Camp presented by UNIFY Financial Credit Union also left head coach Sean McVay disappointed with sloppiness shown on both sides of the ball.
Here are 10 things that stood out from the session: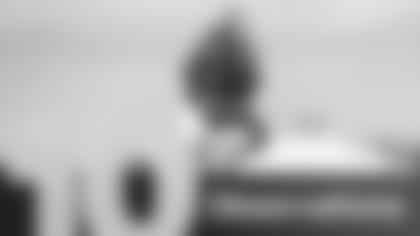 1) "Sloppy" overall: There were flags on both the offense and the defense during team drills in Tuesday's practice, and there other things beyond those penalties that frustrated McVay.
"When you get into these real game settings, and again, it's one of those deals that there can be a lot of good stuff for one side, but if it's a gimme that you're given up, those are things I want us to be better as a team," McVay said. "And so I guess it's the healthy frustrations of wanting to see just good ball, because somebody has to be able to win the down, and if everybody's earning it, that's what I want to see. But if it's because we're making a mistake in terms of our coverage responsibilities, or a rush integrity, or because we're not doing what we're supposed to do on the offensive side of the ball, those are the things that I get frustrated (with). And I felt like that was too consistent of a theme, whether it be offense or defense in different phases."
2) No Ochaun Mathis or Ben Skowronek: Mathis "tweaked his knee" and will probably miss "a few weeks," per McVay. Meanwhile, Skowronek missed practice due to back soreness.
3) More opportunities for other receivers: Cooper Kupp leaving practice early with a hamstring injury – as well as Skowronek's absence – meant more reps for other receivers like Puka Nacua, Tutu Atwell and Demarcus Robinson.
4) Robinson continues building on camp performances: First there was double-move in 1-on-1s that he used to get open for a touchdown pass from Matthew Stafford. Then there was the difficult catch while getting up for the ball on a Stetson Bennett pass (picture above). He also made a catch in traffic as well. In other words, it was more of the same for Robinson.
5) Good day for Nacua: Rookie wide receiver Puka Nacua made a nice catch in traffic over the middle and showed reliable hands on other occasions when targeted by Stafford. He also drew a defensive pass interference penalty on the defense by coming back to a ball Stafford admitted was underthrown.
6) Toughness from Tutu: The third-year wide receiver had an impressive catch in traffic that he held onto despite the best efforts of the defensive back in coverage to rip the ball from his grasp.
7) Denied: Defensive backs Russ Yeast and Quentin Lake teamed up to deny a Stafford deep ball to Atwell, with Yeast getting his hand on the ball to break up the pass.
8) Almost: Rookie defensive end Desjuan Johnson nearly had an interception on a Bennett pass, attempting to pull the ball in with one hand but unable to bring it in.
9) Going deep: Stafford connected with running back Kyren Williams in stride on a deep touchdown pass down the sideline during team drills.
10) Under pressure: Earnest Brown IV had a pressure that would've counted as a sack if not for quarterbacks wearing red non-contact jerseys. Nonetheless, it still drew praise from his defensive teammates.