After wrapping up the Super Bowl, we've officially reached the NFL offseason — and with it, there's a lot of mock drafts around the web.
The Rams currently have the No. 31 overall pick in in the first round. If they keep it, that pick will be the first time L.A. has selected among the first 32 since 2016 when the club traded up to take quarterback Jared Goff at No. 1 overall.
There are a bevy of mock drafts around the web, and the 10 we have here are fairly all over the map — but with two exceptions, all the picks are on defense.
So without further ado, here's the first Rams mock draft roundup of the 2019 offseason.
We'll start with famed draft analyst Mel Kiper Jr. of ESPN, who mocked Ohio State defensive tackle Dre'Mont Jones to Los Angeles in his first set of predictions. Keep in mind this was published on Jan. 17, which was before we knew the exact first-round draft order.
"You can't discount the Rams trading out of this spot — they didn't pick until No. 89 last year," Kiper writes ($$). "But since there are no trades allowed here, let's give Wade Phillips a piece with which to work. Ndamukong Suh will likely move on in free agency, which means there's an open spot next to all-world interior pass-rusher Aaron Donald. Jones, who had 8.5 sacks in 2018, is an athlete. He could even play end for L.A."
Listed at 6-foot-3 and 286 pounds, Jones played 37 games at Ohio State. He recorded a total of 22.0 tackles for loss and 9.5 sacks in three years.
Sticking at ESPN, analyst Todd McShay has one of the two offensive picks in his second mock, selecting Alabama tight end Irv Smith Jr. to Los Angeles at No. 31.
"Super Bowl stinker aside, this offense is outstanding, and the addition of a matchup piece like Smith would just give Jared Goff and Sean McVay one more weapon. He has speed and athleticism. But there are also a lot of holes on defense, so the Rams might look to add to the secondary," McShay writes ($$).
Playing 15 games in 2018, Smith caught 44 passes for 710 yards with seven touchdowns — good for a 16.1 yards per reception average. He played 24 games for the Crimson Tide in the last two years, recording 10 total touchdowns.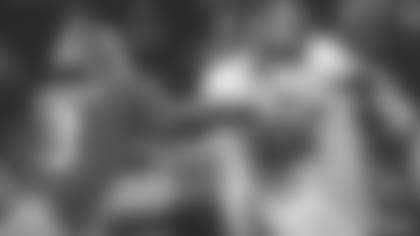 We'll stay on offense for the next pick, with Ben Standig of NBC Sports Washington predicting the Rams will take Iowa tight end T.J. Hockenson at No. 31.
"The Rams received scant production from their tight end group all season and did not have one catch a single pass in the Super Bowl. Hockenson offers the best all-around blend among the top options. Otherwise, defensive tackle Ndamukong Suh, safety Lamarcus Joyner and guard Roger Saffold are among the Rams' key free agents in 2019," Standig writes.
Hockenson also had pretty impressive numbers as a tight end at Iowa, recording 49 receptions for 760 yards with six touchdowns in 2018. He also had a four-yard rush for a touchdown last season. Listed at 6-foot-5 and 250 pounds, Hockenson caught a total of 73 passes for 1,080 yards with nine receiving touchdowns in two seasons as a Hawkeye.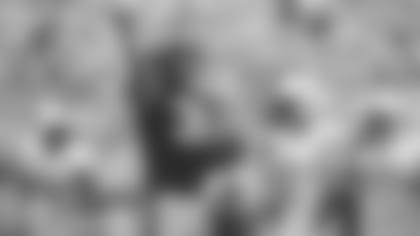 Getting back on defense, nfl.com's Lance Zierlein has the Rams beefing up the secondary with Washington cornerback Byron Murphy at No. 31.
"Undersized ballhawk with outstanding short-area quickness and twitch to make a lot of plays on the football. Oh, he will hit you, too. Keep in mind: Marcus Peters and Aqib Talib are due to become free agents after the 2019 season," Zierlein writes.
Murphy picked off four passes in 2018, returning one for a touchdown. He also had four tackles for loss and a forced fumble in his redshirt sophomore season. In all, he recorded six interceptions in 20 games for Washington.
Let's stick with the secondary, as CBS Sports' Ryan Wilson has L.A. selecting Alabama safety Deionte Thompson in the first round.
"The Rams need help in the secondary and Thompson has the physical skills to be special. His production slipped at the end of the season -- he was beat several times in the national title game against Clemson -- but he remains one of the best safeties in this draft and would upgrade L.A.'s secondary," Wilson writes.
Thompson had two interceptions and six passes defensed for Alabama in 2018. He also recorded three forced fumbles and had a fumble recovery. He played 29 games in three years for the Crimson Tide.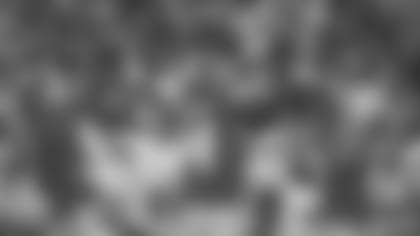 For the third Alabama player in this edition of the roundup, Pro Football Focus' Michael Remmer has the Rams taking linebacker Mack Wilson at No. 31.
"The Rams' second level defensively could use some thump and Wilson certainly brings that. He registered 21 pressures on 67 pass-rushing snaps last year," Remmer writes.
Playing in 33 games over the last three years, Wilson made 113 total tackles for the Crimson tide. He had 4.5 tackles for loss and 1.0 sacks in 2018 along with five passes defensed and a pair of interceptions. In all, Wilson recorded six interceptions in his collegiate career — one of which he returned for a touchdown.
Continuing on the second level of the defense, nfl.com's Bucky Brooks has Los Angeles bringing in Michigan linebacker Devin Bush at No. 31.
"Despite making it to Super Bowl LIII, the Rams could still use some reinforcements at linebacker. Bush is a little undersized, but he's a sideline-to-sideline playmaker with outstanding instincts and a nose for the ball," Brooks writes.
Bush was quite productive at Michigan over the last two seasons, recording a combined 18.5 tackles for loss and 10.0 sacks from 2017-2018. He was the 2018 Big Ten Defensive Player of the Year after recording 66 total tackles, 8.5 tackles for loss, 4.5 sacks, and four passes defensed in his junior season.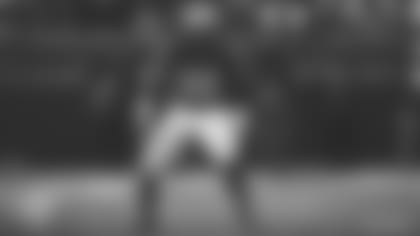 Also at nfl.com, Chad Reuter mocked Louisiana Tech edge rusher Jaylon Ferguson to L.A.
"Ferguson would be a good fit if the Rams lose Dante Fowler Jr. in free agency," Reuter writes.
Ferguson was highly productive in his senior season at Louisiana Tech, recording 17.5 sacks and 26.0 tackles for loss in 2018 — becoming the 2018 Conference USA Defensive Player of the Year. In four collegiate seasons, Ferguson put up 67.5 tackles for loss, 45.0 sacks, and seven forced fumbles.
For our penultimate pick, nfl.com's Daniel Jeremiah mocked Clemson defensive lineman Dexter Lawrence to Los Angeles at No. 31.
"The Rams might need someone to replace Ndamukong Suh, who's due to become a free agent this offseason. Lawrence has a very similar skill set and playing style," Jeremiah writes.
Perhaps best recognized for his viral splits after Clemson beat Alabama to win the National Championship for the 2016 season, Lawrence played 38 games for Clemson — racking up 18.0 total tackles for loss and 10.0 total sacks.
And finally, SB Nation's Dan Kadar has the Rams beefing up their defensive front with Boston College defensive end Zach Allen.
"If Dante Fowler ends up being one-and-done with the Rams, Allen would be a suitable replacement. Allen is strong enough to set the edge against the run, and does just enough as a pass rusher to warrant first-round consideration," Kadar writes.
Allen has been consistently productive over his last three years at Boston College, averaging 13.5 tackles for los over his sophomore, junior, and senior seasons. He recorded 15.5 TFLs and 4.0 sacks in 2017 before racking up 15.0 TFLs and 6.5 sacks in 2018. He also had seven passes defensed, an interception, and a forced fumble in his senior year.