Scouting service Pro Football Focus named Rams defensive tackle Aaron Donald its 2019 Defensive Player of the Year on Monday.
For Donald, it marks the third year in a row and fourth time in the last five years he's received the honor. PFF cited his total pressures generated 80 pressures, most by an interior defensive lineman this season, and an overall grade of 93.7 that was "markedly clear of any other defensive lineman," among the reasons why it made Donald its pick.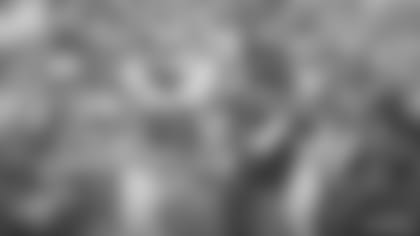 "A season ago, Donald was chasing the single-season sack record all year long, but we shouldn't make the mistake of setting that as his baseline for expectations," PFF lead NFL analyst Sam Monson wrote. "For an interior pass-rusher to be anywhere near the single-season sack record is the outlier of all outliers. Donald's season a year ago wasn't just a Defensive Player of the Year kind of season; it was one of the greatest single seasons the league has seen from any player at any position. The fact that he slipped somewhat from that standard is inevitable, and shouldn't detract from what he was able to do this year on a team that wasn't nearly as good."
This is the third league-wide honor received by Donald this offseason, as he was also named to the Professional Football Writers of America's (PFWA) All-NFL team last week and an First Team All-Pro by the Associated Press earlier this month. The PFWA also named him to its All-NFC team.
Statistically, Donald led the Rams with 20 tackles for loss and 12.5 sacks this past season.
Monson's full breakdown on Donald's latest defensive player of the year resume can be read here.