THOUSAND OAKS, Calif. – As natives of Northern Louisiana, Andrew and Melissa Whitworth have long felt a strong connection to the communities in which they were raised, believing the friends and family that helped them along the way played an important role in their success.
So two years after they got married, they started the Big Whit 77 Foundation as a way of giving back – and with leadership at the forefront of their approach to impacting the lives of youth and families.
"The greatest thing in life is to be able to invest in the people around you," Andrew said. "We want to make a difference, change the world, create a better place, and all of this starts with our youth."
While the Walter Payton NFL Man of the Year Award is considered one of the league's top individual honors, Andrew being the Rams' nominee and one of 32 is really a team effort. It's the result of a collaborative, hands-on approach that reaches not only the couple's home state of Louisiana but also their NFL home of Los Angeles, and aims to set an example for their kids as their parents did for them.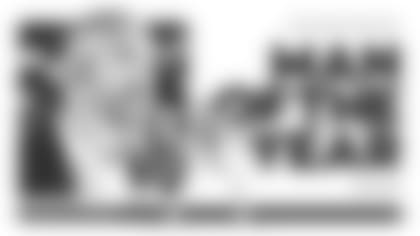 The Big Whit 77 foundation started with a scholarship program, but Andrew and Melissa "didn't want to just hand over the money," according to foundation director Julie Emory.
"The part that they were most passionate about was truly impacting and meeting youth and families and building a legacy with it," Emory said in a phone interview.
That motivation led to the creation of Whit's Warriors, which has awarded over $400,000 in scholarships and school supplies since its inception. It was the first program launched by the foundation because of Andrew's commitment to positive development of youth, a passion can be traced back to his college days at LSU – he enjoyed serving as a motivational speaker to youth groups, according to his bio on the athletic department's website.
Naturally, that has continued with the scholarship program: Qualifying students receive an invitation to attend a leadership conference highlighted by a Q&A with Andrew and Melissa, a panel of community professionals and team-building activities.
"There are multiple ways you can invest in kids," Andrew said. "One is engaging, being present and showing your face and the other is the financial aspect and being able to provide the assets they need to help increase their knowledge and empower them."
Coincidentally, that falls in line with second program offered by the foundation.
Melissa's passion to support and encourage families who have the heart to adopt drove the formation of Open Arms, one of the only programs in the state of Louisiana that offers financial aid to families in the process of adoption.
Applications are accepted twice a year and grants are offered in the Fall and Spring. So far, it has awarded $25,000 in adoption grants supporting 10 families.
"That's always been important to me," Melissa said. "And I've always considered adopting and talked about it and we kind of circle around it. But we just had a heart, especially for families who choose to do that because that's not an easy road, you know, and when we were kind of looking into it, we learned it's also very expensive to try to do it. So we get the open arms grants, which has always been a really, really neat thing to get to do for families who've adopted or who've at least completed the home study and are on their way to adopt."
The most recent piece to the foundation is its annual Wish List event, which pairs student athletes from the University of Louisiana at Monroe and Louisiana Tech with local families for fellowship and fun during the Christmas season. This year's event just took place Tuesday night.
According to Monroe newspaper The News-Star, those families are given $500. The kids get to spend the first $50, then the parents can spend whatever is leftover for Christmas shopping. In partnership with a sponsor, the event has awarded $25,000 to 50 families.
"It's not just, 'We're helping families out by giving their kids a bunch of gifts,' but we're impacting that entire family by allowing, supporting, and encouraging them to be the heroes and feel blessed and encouraged," Emory said.
Families in Louisiana have not been the only ones impacted by the Whitworths' efforts.
Tragedy struck Southern California during Andrew's second season as a Ram. A mass shooting at Borderline Bar and Grill in Thousand Oaks resulted in the death of 13 people, then wildfires erupted that displaced many across the region.
The morning after the shooting, the 14-year NFL veteran asked Rams head coach Sean McVay if he could address his teammates during their team meeting, emphasizing the importance of being involved in their community.
"You will never regret helping another person," he told them.
Words were backed up by actions, as he proceeded to donate a game check to families of the victims of the mass shooting and host families in a suite for the Monday Night Football game. Andrew also auctioned off his game-worn jersey to raise money for families affected by the shooting and the wildfires.
"I wanted to donate my check for the game and let them know that we're going to wrap our arms around them and be right there with them through all of this," Andrew said following the tragedies.
Beyond those efforts, he chaired the Rams' Night for Wishes benefitting the Make-A-Wish Foundation in October, helping raise $400,000 to grant wishes for children fighting life-threatening diseases, served as a team captain for United Way of Greater Los Angeles' HomeWalk, and visited a local elementary school during Read Across America day as part of a $20,000 donation on behalf of the First Quarter for Literacy initiative – all this year. He also donated bikes to all 600 students at a Watts elementary school on a holiday visit after talking to them about the importance of good character in 2017.
Andrew has said before that when he signed with the Rams, the entire family – he, Melissa and their four children – moved with him from Cincinnati to Los Angeles. Being as involved as they have been in the community has not been by accident.
"I think it's important to do it wherever you call home," Melissa said. "We both, very early on, were embraced by this community and added to the people who live here. This was a community that really did their best for us."
For Andrew, he will wear a "Man of the Year" helmet decal in recognition of his accomplishments on and off the field. He and the 31 other nominees will receive a donation of up to $50,000 in their name to a charity of their choice, with the winner getting a $250,000 donation to the charity of their choice. The 2019 Walter Payton Man of the Year will be announced at the NFL Honors event, airing the eve of Super Bowl LIV on FOX.
For his family, it is about creating a generational legacy.
Melissa said she and her husband frequently have conversations about how to keep their children grounded. They get to experience things most other kids don't, and there's nothing wrong with that, but it is important to them as parents to remind their kids that it isn't the norm. Those reminders, according to Melissa, come in the form of bringing them along for events such as the HomeWalk or doing the shopping sprees with families who can't otherwise afford Christmas.
Why is leadership important to them? Because it's what they were raised to do. Melissa said both she and Andrew had great parents, but they want to do better and hope that their children will want the same when they get older.
"You just try to guide them as best you can and hope that you do it as well as you possibly can, and hope that you raise kids that are kind and empathetic and and want to change things and not just sit around and and do nothing," Melissa said.
"We're do-ers in our family, so we're trying to raise our kids to be the same way."