SOFI DRAFT LAB – Round 1 of the 2023 NFL Draft is a wrap, so now we can turn our attention to Rounds 2 and 3.
The Rams are scheduled to be on the clock much quicker than last year, picking No. 36 overall in the second round on Friday compared to No. 104 overall in the third round in 2022.
Here's a look at some of the top prospects remaining at positions of need for Los Angeles, according to experts.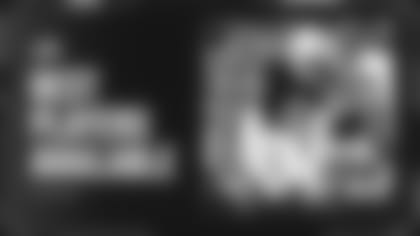 Penn State's Joey Porter Jr. (Pictured above, No. 23 on Jeremiah's Top 150): 6-2 1/2, 193; Second-Team All-American and First-Team All-Big Ten after posting 27 total tackles and 11 pass breakups in 10 starts last season.
Alabama's Brian Branch (No. 31 on Jeremiah's Top 150): 6-0, 190; Second-Team All-American in 2022 after logging 90 total tackles (14 for loss), three sacks, two interceptions and seven pass breakups while starting all 13 games for the Crimson Tide.
Georgia's Kelee Ringo (No. 47 on Jeremiah's Top 150): 6-2, 207; Second-Team All-SEC performer after registering team-high seven pass breakups, plus 42 total tackles and two interceptions while starting all 15 of the Bulldogs' games last season.
Georgia Tech's Keion White (No. 28 on NFL Network draft analyst Daniel Jeremiah's Top 150): 6-5, 285; led the Yellow Jackets with 14 tackles for loss and 7.5 sacks in 12 starts in 2022.
LSU's BJ Ojulari (No. 35 on Jeremiah's Top 150): 6-2, 248; First-Team All-SEC performer last season despite missing two early-season games with a knee injury after producing 58 total tackles and 5.5 sacks in 11 starts for the Tigers.
Auburn's Derick Hall (No. 64 on Jeremiah's Top 150): 6-3, 254; posted 60 total tackles, one interception and two forced fumbles in 12 starts en route to First-Team All-SEC recognition.
Wisconsin's Joe Tippman (No. 34 on Jeremiah's Top 150): 6-6, 313; honorable mention All-Big Ten performer for his performance at center across 12 starts for the Badgers last season.
North Dakota State's Cody Mauch (No. 39 on Jeremiah's Top 150): 6-5, 302; FCS First-Team All-American choice by The Associated Press after starting all 15 games at left tackle for the Bison in 2022. Jeremiah said on a conference call in March that Mauch has five-position flexibility.
Florida's O'Cyrus Torrence (No. 41 on Jeremiah's Top 150): 6-5, 330; First-Team All-American and First-Team All-SEC for his performance across 11 starts at right guard for the Gators. Finished his career without giving up a sack having opted out of. Florida's bowl game.
Kentucky's Will Levis (No. 12 on Jeremiah's Top 150): 6-4, 229; completed 65.4% of pass attempts for 2,046 yards with 19 touchdowns against 10 interceptions, also rushing for two scores while starting 11 games in 2022.
Tennessee's Hendon Hooker (No. 46 on Jeremiah's Top 150): 6-3, 217; completed 69.6% of pass attempts for 3,135 yards with 27 touchdowns against two interceptions in 11 starts. Also rushed for 430 yards on 130 yards and five touchdowns prior to suffering season-ending torn ACL.
BYU's Jaren Hall (No. 95 on Jeremiah's Top 150); 6-0, 207; completed 66% of pass attempts for 3,171 yards with 31 touchdowns against six interceptions. Also rushed 86 times for 348 yards and three scores.