When first-round picks enter the league, they're often expected to start right away.
Analysts break down their film and talk about the fit with their new team on draft night, as they're often thought of as filling an immediate need.
But for a fourth-round pick? That's really not the case — especially because those players often sit.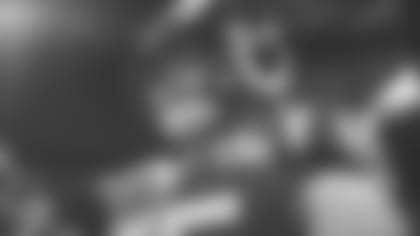 Like Rams center Brian Allen, who was the 111th pick of the 2018 NFL Draft just over a year ago.
"Mel Kiper wasn't talking about me when it came to draft time," Allen joked in a recent interview with therams.com for Season 2 of Behind the Grind. "And I wasn't some huge talent who ran fast or jumped high."
Instead, Allen says, he was "just a football player." And that was enough for Los Angeles' brass — including run game coordinator/offensive line coach Aaron Kromer — to bring in the 6-foot-2, 303-pound lineman out of Michigan State.
"If you can play, you can play — and it's the way it is," Allen said of Kromer's philosophy. "But not all offensive line coaches look at offensive linemen like that. So having a guy who believes in me and believes that I can play at this level is big."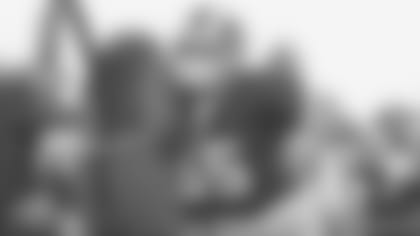 Allen, of course, didn't play much during last year's run to Super Bowl LIII. As a rookie, he saw mainly mop-up duty for a few games — both victories over Arizona and the Week 17 win over San Francisco. But he was also in for three plays in spot duty for starting center John Sullivan during the Week 14 matchup in Chicago.
But even in limited playing time, Allen says he was able to learn a lot in his rookie year — mainly through the player in front of him.
"Being behind [Sullivan] was honestly one of the best things that I think has happened to me," Allen said. "Coming from college, you get in a college offense, and being in the same system for four years, eventually I knew everything in that. And you get to a new system and you know the basics, and a guy like him starts talking and starts using words I don't know and describing defenses in ways I've never even thought about. And being able to see the way he thinks and the way that he went about the calls and stuff like that — I don't think there's a center in the NFL who's smarter than him as far as making the right 'Mike' point at the center position. That's obviously huge.
"And the stuff he does is pretty unbelievable if you can really get in and grasp the stuff that he sees. So just being behind him for the whole year was honestly — at the end of my career, I'll be most thankful for that because he took me from here to here," Allen continued, displaying different levels with his hand. "And I still have a long way to go, but without having that I don't — again, being behind another center on another team, I don't if I'd be as good as I am now."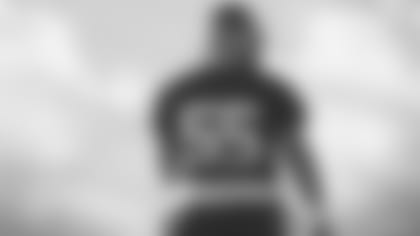 Kromer noticed the kind of detail Allen put into his study last year — despite the fact that he wasn't playing. And that's part of the reason why Kromer and the team are confident in Allen's ability to become a starter.
"Brian Allen really paid attention and was working closely with John Sullivan, who — what a great vet," Kromer told therams.com. "But Brian shows that he has that innate intelligence and that vision that he can see the defense. But his number one overall trait is going to be his physical nature. He's a powerful, quick offensive lineman who has the vision to see the defense. So we're looking forward to him."
And Allen is looking forward to his opportunity — and that's as far as he'll classify it. While general manager Les Snead and head coach Sean McVay have said that Allen slots in as Los Angeles' starting center after the team declined the option on Sullivan's contract in March, Allen realizes there's a lot of time between now and Week 1.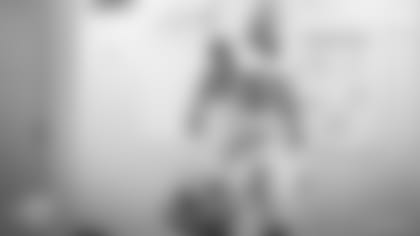 Because of that, Allen wants to make sure he's doing everything he can to truly earn the role between now and September.
"I mean, the season's a long way away. I don't want to say that it's mine by any means. There's the draft coming up, free agency is still going on," Allen said. "But at the same point, I'm not here to be a backup. That's obviously the goal. I didn't want to just get here and be on the team. I want to play, and I want to play at a high level."
"So I'm excited for the opportunity that's in front of me and I'm really just excited to be able to show what I learned this whole last year. I didn't play a lot as you guys know, but I got a whole lot better from the last preseason game to the end of the year. So a lot of time, a lot of knowledge that I've learned a lot of everything. And back to our O-line room, I wouldn't be here without them. And I'm kind of mind-blown myself at the steps and progressions I've made, just understanding football, being in that room every day with those guys."
For more on Allen, Kromer, and the rest of the offensive line, check out Episode 2 of Behind the Grind below.