Beginning on Saturday, April 28 at 9AM PT, the Los Angeles Rams and Los Angeles Chargers will announce their Day 3 picks (Rounds 4-6) of the NFL Draft at the construction site for the new Los Angeles Stadium, which will serve as home field to both teams starting in 2020.
As part of the draft festivities, the Chargers and Rams will together celebrate a variety of local communities by inviting youth, law enforcement, fire departments and city representatives to announce the teams' picks.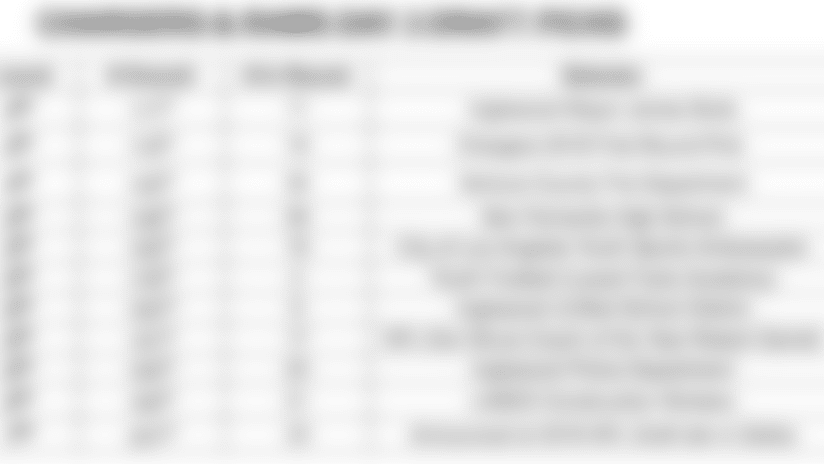 <span style="text-decoration: underline;">ADDITIONAL INFORMATION ON CHARGERS SELECTORS</span>
As part of the Chargers ongoing commitment to youth sports, members of the youth tackle football COSTA MESA/NEWPORT CHARGERS, HUNTINGTON BEACH CHARGERS, IRVINE CHARGERS, AGOURA-OAK PARK CHARGERS, CARSON CHARGERS and INGLEWOOD CHARGERS will join the Chargers 2018 First Round draft pick to announce the team's 4th Round selection (119th overall pick). The players will be wearing their jerseys holding their respective team's helmets.
Making the announcement for the Chargers 5th Round (155th overall pick) selection will be Los Angeles Youth Sports Ambassador MAXWELL "BUNCHIE" YOUNG. Los Angeles MAYOR ERIC GARCETTI named Young an inaugural Youth Sports Ambassador after learning about his enthusiasm for the city's commitment to health and fitness. Young, a multi-sport athlete participating in football and track, is a student at KIPP Scholar Academy in South L.A. and a member of the Hub City Tar Heels youth football team. Named Sports Illustrated Kids' 2017 SportsKid of the Year, Young was recognized, along with the Chargers, at the annual State of the City address last week at Los Angeles City Hall. During his address, Mayor Garcetti announced that the Chargers have pledged to fund sports in the city's Summer Night Lights program.
Announcing the Chargers 6th Round pick (191st overall pick) will be 2017 NFL Don Shula Coach of the Year and Crenshaw High School Head Football Coach ROBERT GARRETT and members of the State Champion Crenshaw High School football team. Nominated for the NFL Don Shula Coach of the Year by the Chargers, Coach Garrett led the Crenshaw High Cougars to an impressive 12-3 record and a 2017 CIF Division 4-AA State Champion title. Coach Garrett's success on the field is matched by his outstanding role as a mentor to young student-athletes. He is also the former coach of two current Los Angeles Chargers players, linebacker HAYES PULLARD and defensive tackle BRANDON MEBANE. 
<span style="text-decoration: underline;">ADDITIONAL INFORMATION ON RAMS SELECTORS</span>
Announcing the first of three Rams 4th Round selections (111th overall pick) will be Mayor JAMES BUTTS, who is currently the 12th Mayor of the City of Inglewood. Butts has served the Los Angeles region for nearly four decades with experience in public safety, municipal government and education. He served as an Inglewood police officer for almost 20 years and eventually ranked as the Deputy Chief of Police before he became Chief of Police for the City of Santa Monica in 1991.
Making the announcement for the Rams 4th Round (135th overall pick) will be six representatives of the VENTURA COUNTY FIRE DEPARTMENT. In the wake of the Thomas Fire, California's largest wildfire on record that displaced thousands of people and destroyed hundreds of homes, the Ventura County Fire Department worked around the clock and during the holiday season with other local departments to ensure the safety and security for all Ventura County residents.
Directly following, team captain Kyle Bryant and Head Coach Trinidad Garcia from SAN FERNANDO HIGH SCHOOL's varsity football program will announce the team's 4th Round (136th overall pick). On February 8, the Los Angeles Rams and Los Angeles Unified School District hosted an all-school assembly at San Fernando High School to recognize their Varsity Football Team as the winner of the Rams inaugural Academic Challenge. Leading the assembly was Hall of Fame legend ERIC DICKERSON, who covered topics such as character, education and success before presenting the football program with a $2,500 Equipment Grant.
Announcing the first of four 6th Round selections (176th overall pick) will be LACED FACTS ACADEMY's Youth Football team. Over the past two months, the Los Angeles Rams have partnered with non-profit organizations and youth football clubs to host free clinics throughout Southern California. On March 24, the Los Angeles Rams hosted a Youth Football Clinic at Narbonne High School in Harbor City for Laced Facts Academy, a Charter School for student-athletes from grades 2-8 where they study, train and play together year-round.
Making the announcement for the Rams 6th Round (183rd overall pick) will be high school seniors from INGLEWOOD UNIFIED SCHOOL DISTRICT. In partnership with IUSD and LA Promise Fund, the Rams have created a training camp internship program to expose students to career opportunities in professional sports. Beginning in July, the selected students will have the opportunity to work as part of the Rams organization during the team's training camp at UC-Irvine. 
Shortly thereafter, Officer Cinder Eller with INGLEWOOD POLICE DEPARTMENT will announce the team's 6thRound (194th overall pick). Eller, who is the daughter of the Minnesota Viking's Hall of Fame defensive end Carl Eller, currently serves as the Senior Community Affairs Liaison for IPD and provides comprehensive crime prevention programs, serves as a well-informed professional about public information, and establishes community participation through Police Community Centers. The Inglewood Police Department employs nearly 186 sworn personnel and 92 civilian support personnel and consists of multiple resources, such as specially trained canine teams, directed enforcement units, scientific services investigators, bike teams, community affairs, fiscal services and recruitment.
To conclude the Rams scheduled picks, construction workers for the LA Stadium and Entertainment District at Hollywood Park will announce the Rams 6th Round (195th overall pick) of the 2018 NFL Draft.
<span style="text-decoration: underline;">ABOUT LA STADIUM AND ENTERTAINMENT DISTRICT</span>
The centerpiece of the 298-acre sports and entertainment district, LA Stadium provides for a seating capacity of 70,000, expandable up to 100,000, with 260 luxury suites, more than 13,000 premium seats, and almost three million square feet of usable space. The project will include a 6,000-seat performance venue located under the same roof canopy as the stadium.
LA Stadium will be home field for the Los Angeles Rams and Los Angeles Chargers starting in 2020. It will host year-round sports and entertainment events and has already secured Super Bowl LVI in February 2022, the College Football National Championship game in 2023 and the Opening & Closing Ceremonies of the 2028 Olympic Games.
Adjacent to the stadium and performance venue, the project anticipates an initial phase of more than 1.5 million square feet of retail and office space, 1,500 residences, a hotel and more than 20 acres of parks. The long-term plans offer the possibility of developing additional phases over time.