Some members of the Rams' 2019 rookie class played immediately, while others were afforded bigger roles in the second half of the season due to injuries at their position.
After checking in the group in early November, theRams.com has an updated, end-of-season look at how each of them fared.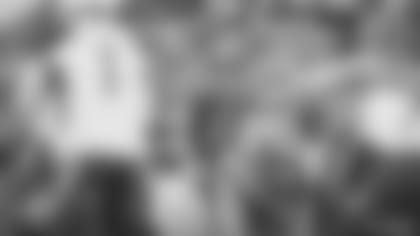 S TAYLOR RAPP (ROUND 2, NO. 61)
Rapp finished his first professional season playing in all 16 games, starting in the final 10 after safety John Johnson III suffered a season-ending shoulder injury in Week 6. He logged 823 snaps, fifth-most among all Rams defensive players this season.
Furthermore, his 100 total tackles ranked third on the team, and he also added two interceptions. His first – a pick-six – came against the Cardinals on Dec. 1. His second also came against the Cardinals, but in Week 17.
Scouting service Pro Football Focus (PFF) graded Rapp as Los Angeles' fourth-best tackler at its Week 9 bye. By the end of the season, he improved to third-best with an 81.3 tackling grade.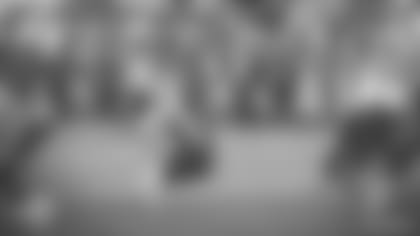 RB DARRELL HENDERSON JR. (ROUND 3, NO. 70)
Todd Gurley's increased usage and backup Malcolm Brown getting healthy in the latter half of the season resulted in a change in Henderson's role in their backfield.
Of Henderson's 39 carries, 29 came before the bye week. He also rushed for 119 of his 147 yards prior to Week 9, leaving the former University of Memphis star with 10 carries for 28 yards over the final five weeks of the season. He also didn't see much action in the passing game after tallying four receptions for 37 yards in the Rams' first eight games.
Although he wasn't as involved in the offense over the final eight games, his special teams experience in college would help him find a new way to help Los Angeles down the stretch.
After JoJo Natson suffered a season-ending hamstring injury against the Cardinals in Week 17, the Rams delegated kickoff return duties to Henderson. He averaged 19.3 yards per return, with 58 yards across three attempts and a long of 23.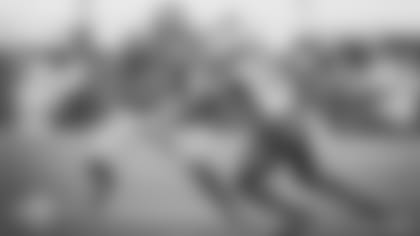 CB DAVID LONG JR. (ROUND 3, NO. 79)
Inactive for the first six games of the season, injuries at the cornerback position afforded Long more playing time down the stretch.
He appeared in six of the Rams' final eight games, helping him close out the season with 108 defensive snaps. That action was highlighted by a season-high 52 in the finale against the Cardinals, in which Long finished with three total tackles and one pass breakup.
Similar to when he first landed on the active gameday roster, his primary action came on special teams, logging 132 snaps with that unit. Overall, he posted 10 tackles and two pass breakups in eight games.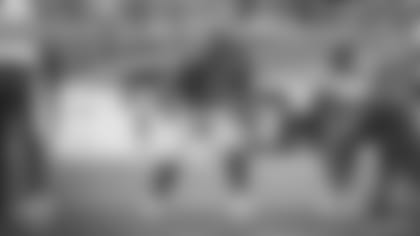 OT BOBBY EVANS (ROUND 3, NO. 97)
Another rookie who bided his time and was rewarded for his patience, Evans took on a larger role during the second half of the season.
Starting right tackle Rob Havenstein's knee injury against the Steelers in Week 10 set the stage for more playing time for Evans, as Rams head coach Sean McVay named him their starting right tackle in Week 11. Even when Havenstein resumed full participation in practice Dec. 11, Evans remained Los Angeles' starter at that spot over the final three weeks of the season while Havenstein remained inactive.
After not landing on the active gameday roster until Oct. 20, Evans finished by playing 42.5 percent of the Rams' offensive snaps this season.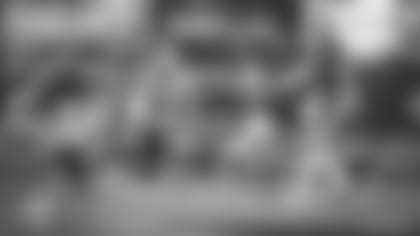 DT GREG GAINES (ROUND 4, NO. 134)
Opportunities were hard to come by for Gaines early in the season, but the University of Washington product managed to find playing time toward the end of the season. Inactive for six of the Rams' first eight games, he was on the active gameday roster for the final seven.
Gaines' best statistical performance came against the Ravens in Week 12, when he finished with four total tackles and half of a sack. He concluded his first professional season with 13 tackles and 0.5 sacks in 10 games.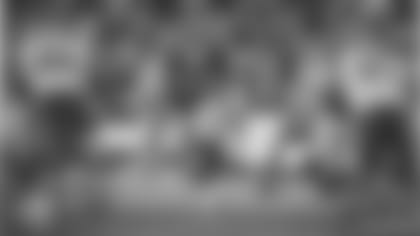 OT DAVID EDWARDS (ROUND 5, NO. 169)
Edwards' versatility proved valuable for the Rams this season, especially when it came to helping stabilize on offensive line that endured multiple injuries.
When knee surgery following Week 6 ended left guard Joe Noteboom's season, Los Angeles called on Edwards to replace him. When starting right guard Austin Blythe took over starting center duties in wake of Brian Allen's season-ending knee injury in Week 11, Edwards took over Blythe's role without missing a beat.
All told, Edwards appeared in all 16 games, starting in 10, while playing the third-most snaps of any Rams offensive lineman this season.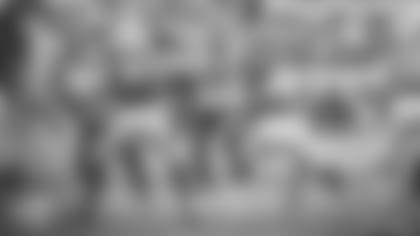 S NICK SCOTT (ROUND 7, NO. 243)
Initially projected as a key special teams contributor, Scott remained a mainstay with that unit throughout the season.
Appearing in all 16 games, he played a team-high 360 snaps with that unit and finished with eight total tackles. He also added a reception to his stat line after hauling in a pass from Johnny Hekker on a fake punt against the Falcons in Week 7.