Though Tyler Higbee said talks took place "here and there" regarding securing his future with the Rams, the tight end said his sole focus was on the upcoming season.
His priorities proved to be the right order.
The Rams and Higbee on Thursday agreed terms on a four-year extension that will keep him under contract through the 2023 season, with Higbee officially signing his contract Thursday afternoon. It's a move that came as a nice surprise for the former Western Kentucky standout.
"I'm excited to be here," Higbee said. "I love this coaching staff. I want to thank the organization, (owner/chairman) Mr. (Stan) Kroenke, this coaching staff, front office, all my teammates for making this possible. I'm grateful, very blessed."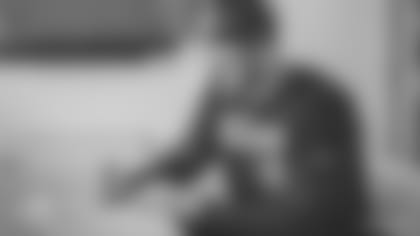 While the decision may have caught Higbee off guard, his contributions show it wasn't unexpected.
Since being drafted 110thoverall in the fourth round of the 2016 NFL Draft by Los Angeles, Higbee has played in all 48 regular season games and four postseason games with 39 starts.
He recorded 58 career receptions for 658 yards and four touchdowns in his first three seasons, including 24 receptions for 292 yards and two touchdowns in 2018. Those totals fell one reception and three yards shy of matching his career highs in both categories for a single season, but his two scores set a new career high.
The postseason offered a glimpse of being someone the Rams could depend on at tight end for the foreseeable future. He had four catches in the NFC Championship game, including one touchdown in the third quarter and two receptions during the game-winning drive in overtime.
Beyond that series, his overall body of work and ability to do multiple things is what has made him such a critical part of the Rams' offense.
"He's really important," McVay said. "Versatility from that tight end position is paramount, and his ability to be able to make plays in the pass game, be able to compete on the line of scrimmage in the run game, do some different things protection-wise – We ask a lot of our tight ends in terms of the versatility, and his ability to play on all three downs and be competitive with whatever we ask of him is a really important part to this offense."
Part of Higbee's excitement about committing to the Rams long term is being part of their winning culture, a culture in which where everyone does their job.
Appropriately, he's quite familiar with that given the lessons he learned growing up and as a Hilltopper.
"I had a coach in college that said, 'Prove to be reliable. Do your job and everything will work itself out,'" Higbee said. "I learned from my parents work hard and stuff will play out how it's supposed to play out."
With that perspective, looks like Thursday's decision isn't much of a surprise after all.