As the calendar reaches July 18, we're just over a week away from veterans reporting to training camp down at UC Irvine.
That also means we're getting down to the last few positions in our Countdown to Camp. In this edition, let's take a look at the room headed by Todd Gurley.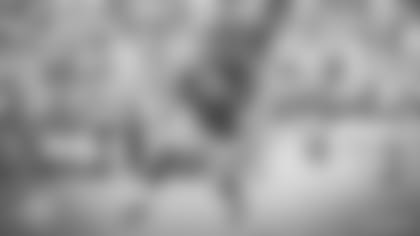 Newcomers: Darrell Henderson, Matt Colburn
The Rams have been home to some of the best running backs of all time, like Hall of Famers Eric Dickerson and Marshall Faulk. And with his last two seasons, Gurley has proven that if his career continues on the same trajectory, he deserves to be in that conversation.
The 2015 AP Offensive Rookie of the Year and 2017 AP Offensive Player of the Year, Gurley has accounted for 3,924 yards from scrimmage and a whopping 40 touchdowns over the last two seasons. Thirty of those touchdowns have come on the ground, and 10 through the air.
While there has been plenty of discussion surrounding the health of Gurley's knee over the course of the offseason, he'll be able to answer all of those questions starting with training camp — where he's expected to participate, according to head coach Sean McVay.
Malcolm Brown finished the 2018 season on injured reserve with a clavicle injury, but he'll be a key depth piece for Los Angeles this season. The Rams matched an offer Brown received from the Lions as a restricted free agent, putting Brown under contract with L.A. through the 2020 season. Brown averaged 4.9 yards per carry in 2018 and 10.4 yards per reception.
McVay mentioned wanting to add another explosive, versatile weapon to the offense earlier in the offseason, and Los Angeles appears to have done so with rookie running back Darrell Henderson. The Memphis product averaged 8.9 yards per carry as both a sophomore and junior at the college level, and can also be a pass-catcher out of the backfield. Based on his versatility, he may give the Rams a few more options when it comes to personnel groupings.
Heading into his third season out of USC, Justin Davis has mainly been a special teams contributor when he's been active on gameday. He's spent the last two years on Los Angeles' 53-man roster, but hasn't always been a part of the gameday 46.
It's a similar story for 2018 sixth-round pick John Kelly, though he did take 27 carries for 74 yards late in the season.
Rounding out the group, the Rams signed Matt Colburn as an undrafted free agent out of Wake Forest during the spring.
PREVIOUSLY ON COUNTDOWN TO CAMP
Tomorrow, Countdown to Camp will continue with a look at the Rams' defensive line.