Each weekday, theRams.com will be taking a look around the internet for the top Rams headlines of the day. Here's a look at what's out there for Friday, May 13 about your Los Angeles Rams.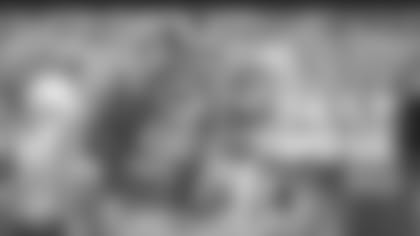 Pro Football Talk's Peter King opened his latest version of Football Morning in America with power rankings for 2019.
He says to not worry about running back Todd Gurley's knee, but rather how the Rams secondary will fare against the NFC West's finest passers.
No. 4 Los Angeles Rams - "The Rams will be good; we know that. But good enough to stave off the Niners and Seahawks in the West? Good enough to play deep into January? You might wonder about Todd Gurley's future, because of the weird usage pattern in 2018 (first 12 games: 19.4 carries per game; last five games: 10.6 carries) that hinted at a bum knee. I'm not that concerned about Gurley, or the running game, because Sean McVay will figure it out. I'm more concerned with what the heck happened to Marcus Peters last year, and whether in a pass-happy NFC West the Peters-Aqib Talib combo platter can be the top cornerback group in the division like the Rams planned."
With training camp a few months out and OTA's just around the corner, BR's Ian Wharton has his best guess at what the Rams' starting lineup could look like Week 1 in Carolina.
Wharton predicts a position battle at tight end on offense, weighing pass catching and blocking. On defense, he says the Rams must address the nose spot, left vacant by defensive tackle Ndamukong Suh — a position he currently has filled with in-house depth.
Offense: QB Jared Goff, RB Todd Gurley II, WR Robert Woods, WR Brandin Cooks, WR Cooper Kupp, TE Gerald Everett, LT Andrew Whitworth, LG Joseph Noteboom, C Brian Allen, RG Austin Blythe, RT Rob Havenstein
Defense: DL Aaron Donald, DL Michael Brockers, DL Tanzel Smart, ED Dante Fowler Jr., ED Samson Ebukam, LB Cory Littleton, LB Clay Matthews, CB Marcus Peters, CB Aqib Talib, S John Johnson III, S Eric Weddle
For each team's projected starters and more on the Rams' slotted 22, click here.
His name was tossed around as a potential MVP candidate as the season's end drew near in his second-consecutive Defensive Player of the Year campaign in 2018, but defensive tackle Aaron Donald fell short of history, despite his NFL record 20.5 sacks as a member of the defensive interior.
In order for Donald to become the first defensive player to win MVP since Hall of Fame Giants linebacker Lawrence Taylor in 1986, Bleacher Report's Brad Gagnon says he might have to set his sights on even bigger records.
"That would still require a down year at the quarterback position, which is a possibility albeit unlikely," Gagnon said. "And it would help if Donald were to break the league's single-season sack record of 22.5, which is absolutely within the realm of possibility for a 28-year-old coming off a 20.5-sack campaign."