Throughout the offseason, theRams.com will be taking a look around the internet for the top Rams headlines of the day. Here's a look at what's out there for Monday, January 13 about your Los Angeles Rams.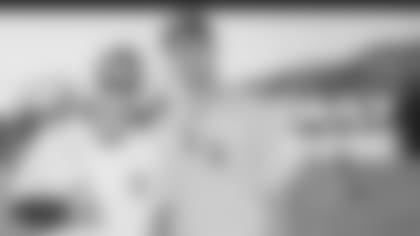 GOFF JOINS YELICH, BRAUN, MOUSTAKAS FOR SECOND ANNUAL CALIFORNIA STRONG CELEBRITY SOFTBALL GAME
Rams quarterback Jared Goff teamed up with Major League Baseball players and fellow California natives Christian Yelich, Ryan Braun and Mike Moustakas to host the second annual California Strong celebrity softball game at Pepperdine University in Malibu.
While Los Angeles' postseason prevented him from participating in the first edition of the event, Goff remained deeply involved with the cause. On Sept. 18, he pledged to donate $1,000 per touchdown thrown during the 2019 season. He finished with 22 touchdowns for a $22,000 contribution.
Launched in response to the devastating Borderline shooting and the wildfires that swept through Southern and Northern California in November 2018, California Strong's mission is to provide immediate financial assistance to individuals affected by major California disasters and other tragic events. As of Sept. 18, California Strong has raised nearly $2.2 million for over 650 families.
ICYMI: GET TO KNOW DAVID EDWARDS
Rams team reporter Sarina Morales caught up with the rookie offensive lineman right before the start of the offseason to discuss his travel plans, the teammate he will miss the most and more.
FAN VOTING STILL OPEN FOR HALL OF FAME
You can help Rams legends Isaac Bruce and Torry Holt get into the Pro Football Hall of Fame.
Fan voting is still ongoing for this year's class. You can vote as often has you like, and after you do, you'll see the top five as they currently stand.