Throughout the offseason, theRams.com will be taking a look around the internet for the top Rams headlines of the day. Here's a look at what's out there for Friday, January 10 about your Los Angeles Rams.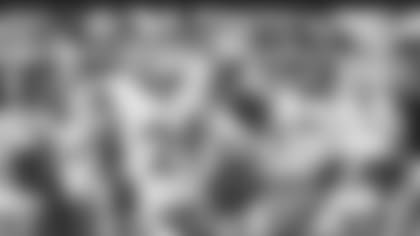 RAPP'S ROOKIE SEASON GRADES OUT WELL AMONG HIS EXPERIENCED PEERS
Safety Taylor Rapp posted top-10 performances in multiple categories evaluated by Pro Football Focus (PFF's) during his first professional season.
PFF's Rams-specific Twitter account has more below.
From a December 2018 article, here is how PFF defines defensive stops:
"A stop is a play where a defender makes a tackle, and the location of the tackle means the play is a successful one for the defense. While the definition of a successful play for a defense will differ slightly from one site to another, here is how we have always defined it:
"On a first down, if the offense gets 45% of the way to a first down or less
"On a second down, if the offense gets 60% of the way to a first down or less
"On a third or fourth down, if the offense doesn't get a first down.
"Typically, when a defender makes a stop, he's done something right on the play to get himself in position to make a tackle. He either shed a block, or he had the right combination of reaction time and speed to get to the right place at the right time."
Each of these rankings back up what's been heard since the draft and throughout the season when it comes to praise for Rapp's short-area quickness and tackling ability.
The former University of Washington star finished this season with 100 total tackles plus two interceptions while playing in 15 out of 16 games, with 10 starts.
HARVARD BUSINESS JOURNAL SAYS ORGANIZATIONS FROM LEARN FROM NFL'S TREND OF HIRING YOUNGER HEAD COACHES
When the Rams hired Sean McVay, he became the youngest head coach in modern NFL history. His subsequent success prompted other teams to follow a similar model of hiring younger coaches willing to challenge conventional wisdom, especially on the offensive side of the ball, according to the Harvard Business Journal.
That same publication said McVay's approach to the job created lessons that are applicable to more than just NFL organizations. One notable example that translates was one of the first moves McVay made when first assembling his staff, bringing on veteran defensive coordinator Wade Phillips to oversee that side of the ball.
"One step teams and organizations can take is to ask former CEOs to serve as advisors when younger, leapfrogging CEOs are promoted.," wrote Boris Groysberg, Evan M.S. Hecht, and Abhijit Naik. "Again, we need look no further than the Los Angeles Rams to see an effective example of this: 71-year-old Wade Phillips, who has coached in the NFL as a head coach and an assistant since 1976, has proven instrumental as an assistant to McVay."