THOUSAND OAKS, Calif. – In wake of a season-ending ACL and MCL injury to second-year offensive lineman Joe Noteboom, the Rams will turn to fifth-round pick David Edwards to fill his starting left guard spot.
Sunday's game will against the Falcons' will be Edwards' first NFL start.
"Really excited," Edwards said. "Feel confident in the preparation that I'm going to put in with the guys this week, that I'll be ready to go on Sunday."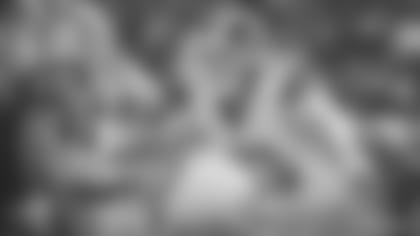 The 6-foot-6, 308-pound offensive lineman was primarily a right tackle at Wisconsin, starting 31 of 37 games there. However, he actually began his career as a tight end before moving to offensive line prior to the start of fall camp in 2016.
Regardless of what position he began his career at had or finished up at in college, Edwards has been ready for this. He played multiple positions across the offensive line in the preseason and said he started playing guard when he first got to Los Angeles.
Though learning the guard position came with some challenges in the preseason, he credits the experience as beneficial for his preparation leading into this moment.
"Really happy (I did that), just because I think the best way you learn football and those positions is playing," Edwards said. "Being able to learn specifically during OTAs and then being able to do it during preseason and then the past six weeks, I feel really confident that I'll be able to battle for these guys."
Edwards also attributed his readiness to the help he's received by the rest of L.A.'s starting offensive line, especially 14-year veteran Andrew Whitworth.
"All the guys have just been really great with me, giving me confidence that I'm going to battle for them, but learning and playing next to Whit is priceless," Edwards said. "He took me aside (Wednesday) for a period of (individual drills) and we just worked on once specific block. So he's been awesome, and all the other guys have been too."
Edwards responded well, as both run game coordinator Aaron Kromer and QB Jared Goff have been pleased with his progress so far.
"We feel highly about how fast he's learned football," said Kromer, who also coaches Los Angeles' offensive line. "Obviously playing at Wisconsin, he has a good upbringing in college, big time football. We feel like he's going to do the job there and we feel like it's the best bet for us."
Said Goff: "I like David a lot, I think he's done a great job. I'm excited to see him go out there. He works hard, practices hard and I think he's got a great future and excited to see what he does this week."
Rams head coach Sean McVay is confident Edwards will be ready to go given his level of comfort with the fundamentals and techniques of the position.
His teammates feel the same way.
"Dave works really hard, he knows his job, and anytime you have a guy who, when you make a call and you know he's going to listen, you don't worry about that," center Brian Allen said. "Dave's that guy who's big, athletic and he knows what he's doing, so it's my job to make him right. I make the call, I know he's going to listen and I trust him. I think it's going to be good."