The Rams will not return veteran defensive tackle Ndamukong Suh to the defensive line in 2019. In his sole season in horns, Suh started in all 16 games and tallied 4.5 sacks, 59 total tackles — four for a loss — 19 quarterback hits, and recovered two fumbles.
The three-time All-Pro had a particularly strong postseason, picking up 1.5 sacks, five quarterback hits, and two tackles for loss, along with a stifling effort against the run in three games.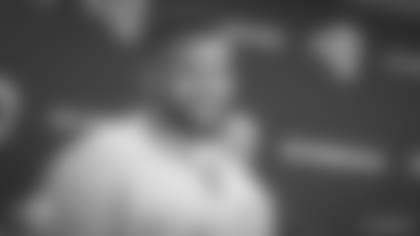 Without Suh heading into 2019, defensive coordinator Wade Phillips has some decisions to make concerning the void at the nose of his unit, and he might not have to look far for the answer.
"Now that I've kind of got comfortable paying at defensive end, you know I like playing that position, but if I have to play nose, I will do that too," defensive tackle Michael Brockers said on the first day of the offseason program. "I told them that whatever I can do for this team, I will do it, so that's the most important thing."
Brockers is an in-house candidate to play the nose position in Phillips' 3-4 defense in 2019. The 2018 team captain and seven-year Rams veteran played the nose in a 4-3 for the majority of his career, before the 71-year-old's scheme was put in place in Los Angeles. Brockers took snaps at nose for a handful of games in 2017, before sliding down the line to get after quarterbacks as a five-technique defensive end.
Positions post-Suh are hardly set on the D-line, especially taking into account the Rams' seven picks in next week's NFL Draft, as well as how young members of the defensive line might contribute — like John Franklin-Myers, who saw solid playing time in 2018, and Sebastian Joseph-Day, who Brockers cited on Monday afternoon when discussing the position gap.
Regardless of who it is, the engine of the Rams' most imposing position group for much of the 2018 campaign isn't worried about next season sans Suh.
"We are just going to keep doing our job. We've got some great players that can come in and help us," defensive tackle Aaron Donald said. "Suh was a good player for us and whatever the situation is, is his business, but no matter what happens, we are just going to do our job and do what we've been dong."