While cleaning out his locker Tuesday morning after posting five tackles and a quarterback hit in Super Bowl LIII, defensive tackle Aaron Donald was asked about any positives from his first Super Bowl appearance — the 13-3 loss, which featured a commendable effort from the Los Angeles defense.
"Yeah we got there," Donald said. "It was a hard-fought game, 13-3 was a close game, so I'd say there's a lot of good, a lot of bad, but just like I said, we can learn from it and try to work to get back there."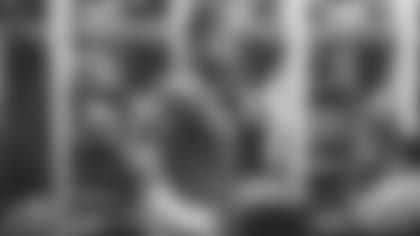 Getting to Super Bowl LIII in just two seasons under head coach Sean McVay — in only the second winning season for the five-year pro — had a lot to do with Donald's record-breaking regular-season performance, which was good for a second-straight AP Defensive Player of the Year nod.
Donald's 20.5 sacks in 2018 led the NFL and set the new single-season sack record for an interior lineman, as well as the Rams' franchise single-season sack record. His 41 quarterback hits and 25 tackles for loss also led the league, and he logged three quarterback hits and two tackles for loss in the NFC Championship game to help send the Rams to the Super Bowl.
"It was an honor," Donald said of being named the best defensive player in the league again. "Anytime you get honored for the hard work you accomplish and put in you're going to happy about it."
As individual awards begin to pile up, Donald's humble response to receiving a second DPOY accolade, an honor that is only second — maybe third — to earning an MVP, was possibly telling of what a Lombardi Trophy would have meant to the anchor of the Los Angeles defense.
Already focused on getting back to arguably the biggest stage in professional sports, Donald said that while his teammates were set to go on vacations, or "do whatever they are going to do" after Tuesday's final meetings, the 6-foot-1, 280-pound Pittsburgh native said is planning to do what he's always done, and get back to work in the gym — on Thursday to be exact.
"There are always ways for you to improve your game, so that's just my mindset — ain't going to let myself get satisfied or comfortable," Donald said, after boosting a career-high 11.0 sacks in 2017 to 20.5 in 2018 against offensive lines who were undoubtedly preparing for the force from No. 99.
As for how improvement is even possible when Donald's all but broken the metric for measuring the power of an interior pass rusher, he said he's going to focus on the few times he was beat — the times he came close to a 21st or 22nd sack.
"Always spice up my game — everything — just break down the film," Donald explained. "Like I said before, just watch the film — the games where I was slowed down, just find out how I can beat them and find ways to defeat it no matter what they are trying to do."
A scary thought for the offensive linemen who were paid money to stop the league's top pass rusher, who's only gotten better and better when his best is required.
"So as long as I stay like that, stay hungry, we'll be fine," Donald said. "And I'll definitely come back better than I was this year."