The Rams took home the honor of the L.A. Sports Awards' 'Moment of the Year' for their Week 11 win over the Kansas City Chiefs on Monday Night Football.
The 54-51 victory and instant classic was the highest-scoring game in Monday Night Football's history. The game featured eight lead changes, 14 touchdowns, and marked the first time in NFL history a team allowed at least 50 points in a win.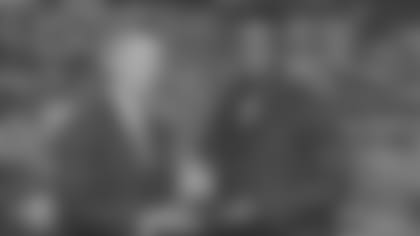 The Rams sent second-year linebacker Samson Ebukam to accept the award for topping the AFC's top team in the thriller that set the highest MNF rating since 2014, and the lesser-known member of the NFC Champs admitted the suit and tie affair in Beverly Hills was uncharted waters, just two years removed from the Eastern Washington University campus.
"It definitely means a lot, honestly, because this is not an opportunity that comes by often, to accept an award like this on your team's behalf," Ebukam said. "And just to have myself be up there, because usually they want Aaron Donald, they want Todd Gurley — you know, the bigger-name guys."
But any viewer who contributed to the high television ratings likely remembers Ebukam's performance against MVP quarterback Patrick Mahomes and his Chiefs in the L.A. Coliseum.
It was a performance that even Ebukam couldn't imagine. On the night of the awards ceremony, the young linebacker disclosed that he was scratched from the starting lineup ahead of the big game.
"I was kind of just taking it in-stride, I was kind of pissed off, but I knew what the game plan was and I was just like, alright I'm going to do my job when I get in there and make the best of my opportunities," Ebukam said. "And that's exactly what happened."
Ebukam scored two defensive touchdowns in primetime — one by way of a bobbling interception, and the other a scoop and score. He added three tackles, a sack, and an additional quarterback hit, helping his Rams improve to 10-1 and remain atop the NFL.
With over 1,000 first responders in the stands and the hills of Southern California with fresh scars from November's fires, the Rams' representation on Monday night said to win the unexpected home game after it was relocated from Mexico City was more than a personal coming out party or an ESPN executive's dream viewership scenario.
"It was definitely big for L.A. to have us play here amidst everything that was going on," Ebukam added after accepting the award. "Just to bring a little joy to the family here."