Rookie defensive lineman Greg Gaines is known for being a run stuffer. When the Rams selected him at No. 134 overall in the fourth round a few weeks ago, head coach Sean McVay, general manager Les Snead, and defensive line coach Eric Henderson all touted his ability to be a stout presence in the middle of the defense.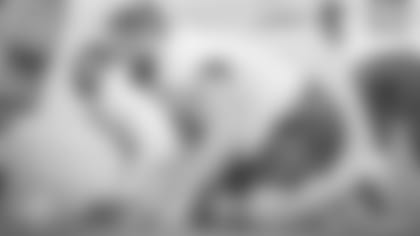 As those individuals also stated, Gaines has a chance to be the nose tackle in Los Angeles' base 3-4 defense. And if Gaines earns that role, he'll be lining up next to two-time defending AP Defensive Player of the Year Aaron Donald.
Gaines got a little taste of what it's like to be around Donald on Tuesday, as the Rams have rookies and veterans on the field at the same time. And what was Gaines' first impression?
"He's a pretty good looking guy," Gaines said in his Tuesday press conference, drawing laughter from assembled media.
In all seriousness, Gaines recognizes the opportunity he has in front of him to soak in knowledge from veterans on the D-line like Donald and Michael Brockers.
"I was just trying to watch every little thing that Aaron Donald did, and Michael Brockers — it's just really cool having those guys here to learn from," Gaines said. "That's the coolest part to me about being here, is just being able to learn from guys like that and improve my game."
When it comes to potentially starting Week 1, Gaines seems flattered by the compliments he's received — but also knows that he has to earn that spot.
"It's definitely cool that they think so highly of me. It's definitely a good feeling," Gaines said. "And I think I can bring it — I think I can be a starting nose-type guy. I'm really strong in the run game, and that's what they want me to do here is just let Aaron Donald take the pass rush reps, and I'll take the double teams on first and second downs."
There's a certain art to embracing that role, since it's not necessarily one that comes with a lot of glory. But Gaines — listed at 6-foot-1 and 312 pounds — says he actually enjoys being the one to absorb blockers.
"Yeah, a lot of guys get frustrated just sitting there eating double teams all day," Gaines said. "I like to keep track of those stats — how many double teams I take on. And it's something I really enjoy doing, and that's, I think, why I'm so good at it."
Given Donald's success over the last two years — as a reminder, he's racked up a ridiculous 31.5 sacks from the interior — No. 99 faces a lot of double teams as well.
"I'm trying to alleviate that for him a little bit," Gaines said.
We'll see if it works out over the course of the 2019 season and beyond.