When the Rams drafted Todd Gurley at No. 10 overall, the team's brass figured he would be a special player.
General manager Les Snead even said on draft night, "We thought he was a unique talent that only comes around once in awhile."
Three years in, Gurley has certainly looked that part more often than not — particularly in 2017. And that's why Los Angeles rewarded him with a four-year contract extension, keeping him tied to the club through 2023.
"If I go back to Georgia — I don't know that they threw him the ball out of the backfield at Georgia," Snead said on Wednesday morning, just after Gurley inked his new deal. "But I can say, when you take a running back with the 10th overall pick, you did have a gut feeling — a little bit of intuition — he was going to be a special weapon on offense.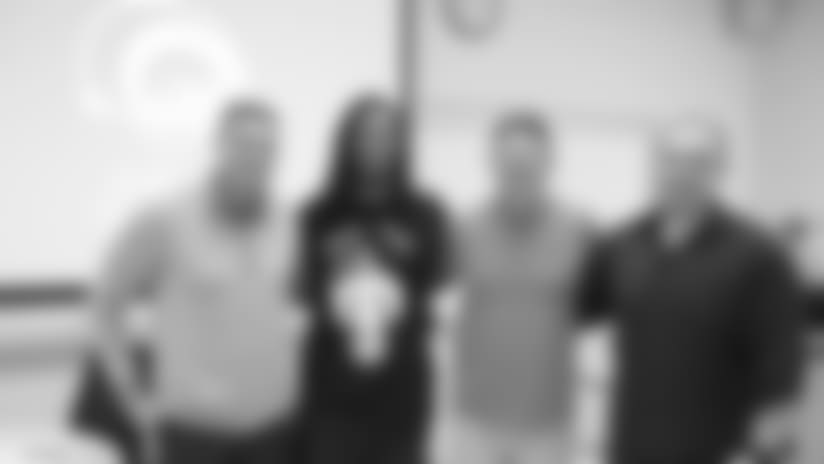 "Anytime someone has a season like Todd did last year — I don't know if you can predict that from a college kid," Snead continued. "But you did know that he definitely had the potential to have, let's call it, 2017-type seasons."
Last year — Gurley's first with head coach Sean McVay — was one to write home about. The running back finished No. 1 in yards from scrimmage, total touchdowns, and rushing touchdowns en route to his first AP Offensive player of the Year award.
And even as Gurley's performances and accolades have made it clear why the Rams would want to keep him around, the running back still had to agree to the terms. With the franchise set up for success in Southern California, Gurley knew where he wanted to be.
"Obviously being in Los Angeles is one of the best cities to play in, and being able to make this my home the last two years has been incredible," Gurley said on Wednesday morning. "So being with the Rams, and being with Les, and being with coach McVay — it's been phenomenal the last year. So I'm excited to be with these guys for the next couple of years."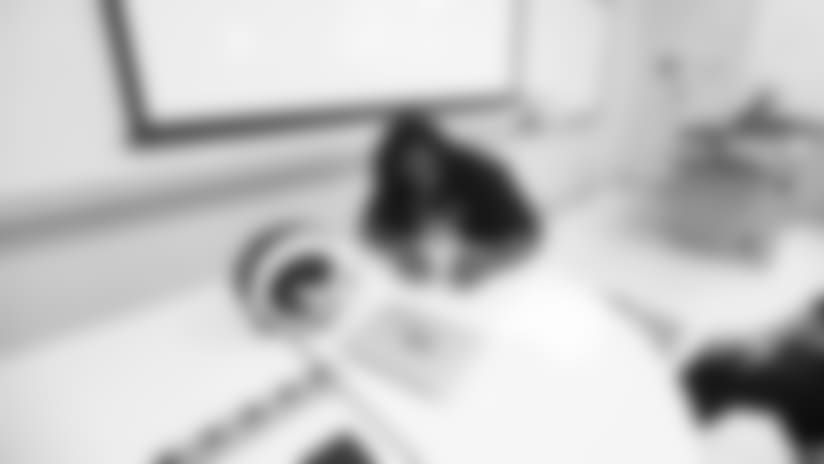 Nevertheless, it's still early in Gurley's career for a contract extension — from both a player and a team standpoint. But with mutual interest, L.A. and Gurley's representation were able to hammer out a deal that worked for both sides.
"I really didn't stress about it too much — just kind of let the Rams handle it, let my agent handle it. And they've done a pretty good job so far," Gurley said. "And then just kind of went back a couple times and happened to agree on it."
"I think from the calculus equation, you try to identify who some of your go-to, some of your core players [are]," Snead said. "It doesn't belittle all the players — the role players, the other players — at all. But what you do want to do is identify the core as early as possible. And when you can anchor them in from a contracting perspective, it does allow you then to know what you need to go build from there."
With Gurley extended through 2023, Los Angeles now has a core of skill players including Gurley, quarterback Jared Goff, and wideouts Brandin Cooks, Robert Woods, and Cooper Kupp all under contract through 2020. That will give the unit time to grow and develop serious continuity.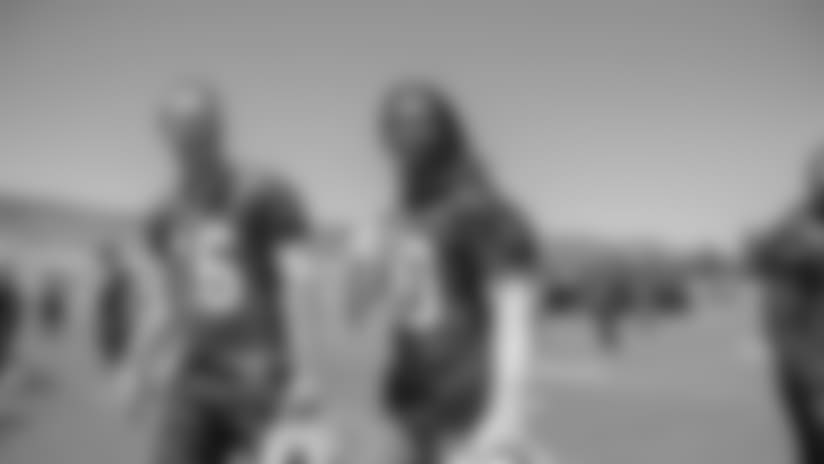 "It's super exciting. I get to work with a bunch of great guys," Gurley said. "A great coach in coach McVay, a great quarterback in Goff. I got to see Cooks the last couple months and see what he's about. Got to see Robert Woods last year, Cooper Kupp — there's a lot of young talent on this team. So I'm excited to be with these guys for a while."
As evidenced by the way social media lit up once news of Gurley's extension began to spread, the running back's teammates are excited to have him around, too.
"Todd's a hell of a player. I think he deserves it 100 percent," right tackle Rob Havenstein said. "If anyone just came and watched one practice and watched how he practiced, you'd say he's totally deserving of it. Offensive player of the Year, and he's just a hell of a guy. Just hands down, really good person, really good player, really good teammate."
"I'm always happy for a guy who has put in the work that he has and had success on the field," left tackle Andrew Whitworth said. "To see guys get rewarded for that is something that not only encourages guys who have been in the league, but guys who want to be there one day too, to put in that work and put in that effort. When you have guys who handle themselves the right way and get rewarded, it's great for the league."
The way Gurley goes about his business puts it right in line with his character that he sees this new contract as motivation.
"I talked to my college running back coach today, and he said, 'This doesn't stop it right here. It's time to show what you're really about and just try to make your mark in this league,'" Gurley said. "So you've always got to prove yourself. Once you've accomplished one thing, then you've got to go on to the next and shoot for bigger goals or make sure you're being consistent around this league."
"But definitely thank you to Mr. Kroenke for allowing me to be on this team, drafting me, and still being able to be on this team for quite a while," Gurley added, referring to Rams owner/chairman E. Stanley Kroenke. "So, super excited. Really am. Super happy. Can't really tell you how I'm feeling right now — still haven't soaked it all in. But I'm happy to be here, happy to be a Ram."