The Rams selected five defensive players in the 2019 NFL Draft, who now have a month under their belt as professional football players in Southern California. On Tuesday, the group's 71-year-old defensive guru outlined a two-step process that's well underway for the newcomers.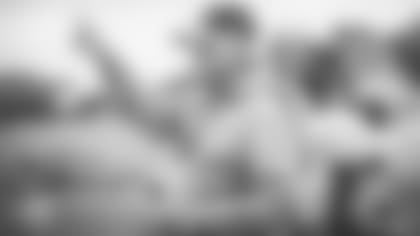 "[T]hey have to get acclimated to pro football number one, but number two, our defense," coordinator Wade Phillips said.
The defensive class is headlined by a pair of former University of Washington Huskies in safety Taylor Rapp and defensive tackle Greg Gaines, each of whom could contribute in year one. For Gaines, step No. 2 in Phillips' process played a role in helping him get to know his new defensive coordinator — even before Phillips addressed his rookies for the first time back in May.
"My first impression of Wade Phillips came from his playbook, I think seeing that and just how simplistic it is," Gaines said in his introduction to the Los Angeles media. "He definitely seems like a good guy."
Gaines wrapped up his UW career with 149 total tackles — 21 of which came behind the line of scrimmage — 9.5 sacks, and an interception in 51 games, and earned All Pac-12 First Team honors in his senior season. He's since welcomed a newborn son and officially had his name tossed around in conversations surrounding the vacancy left in the middle of the defensive line with the departure of defensive tackle Ndamukong Suh.
"It's definitely cool that they think so highly of me — it's a good feeling. I think I can bring it, I think I can be a starting nose type guy," Gaines said, when asked about the prospect of a starting job. "I am really strong in the run game and I think that's what they want me to do here, is just let [DT] Aaron Donald take the pass rush reps and I'll take the double teams on first and second down."
With nothing set in stone and much to learn ahead of Week 1 in Carolina, Gaines has been getting the majority of his reps with the second group in OTAs — second-year defensive tackle Sebastian Joseph-Day with the top unit. The pair of candidates for the nose spot could be set for battle, depending on what transpires in next month's training camp, especially considering Joseph-Day didn't step on the field in his rookie season.
"I think [Gaines] obviously works hard at what he does, I think he's a grinder, we said that, and I think he'll be stronger in pads, where you can see his power and stuff," Phillips said. "No pads and no contact, it's hard to utilize that. I think once he gets the pads on, it'll help him."
"He's done a good job so far," Phillips continued. "He's a smart player and we always say smart players get better. So he's one of those guys."