With more than a decade as an NFL safety under his belt, Eric Weddle brings experience to the young Rams safeties group.
The current crop at the position includes John Johnson, Marqui Christian, and newly-drafted rookies Taylor Rapp and Nick Scott — each of whom are under the age of 23. And then there is Weddle, the safeties' senior of 11 years and likely a versatile starter in the Rams secondary, who's eager to get to work with the young core — especially with Johnson.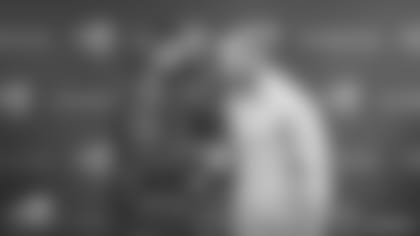 "They've welcomed me in, the safeties group, the young guys, and J.J…. a budding star," Weddle said after Day 1 one OTAs. "It's just a great opportunity for me to not only play alongside him, but to help and learn some things from him as well."
Weddle may see a bit of himself in Johnson, the rising third-year safety, who's brought strong play and personality to the backend of the Rams defense. Weddle's own professional start also came in Southern California, but as a San Diego Charger. Like Johnson, Weddle pulled in one pick as a rookie, and eclipsed 100 tackles in year two.
Johnson led the team with four interceptions in his second professional season and all but iced the club's trip to Super Bowl LIII in the NFC Championship game with a pick off future Hall of Fame QB Drew Brees. He now readies for year three, poised to be the next big name out of the Rams decorated secondary.
"I'm here to push him to that next level. He's got a chance to be an exceptional safety for a long time and I can see it in him," Weddle said. "He's got to get there, so I'll push him every day that's for sure."
And that process is officially underway. Johnson and Weddle took the field together against head coach Sean McVay's offense for the first time as OTAs hit this week. Weddle worked in and out of the dime linebacker spot, often with Johnson lurking downfield behind him, both echoing calls to their newly shared defense.
"He's just an all-around player, he can do it all," Johnson said when the team introduced Weddle as a Los Angeles Ram in mid-March. "He blitzes, he can cover, he can play the middle post... so he can do it all — and that's something that I like doing, I pride myself on, is doing it all."
In addition to bringing his 12 years of professional experience to the playing field in 2019, Weddle has plans to take 'J.J.' to the next level — starting the year after the young safety missed out on a Pro Bowl distinction.
"I know how strong he is," Weddle said. "If we are in the weight room, I'll tell him hey you need to put on more weight and push him in those instances, make him stay later with me and do some extra work, just little things like that. It will all carry over and all mean something at the end of the day."