Wide receiver Cooper Kupp was officially back on the practice field on Thursday, going through the session on a limited basis.
Head coach Sean McVay said prior to practice Thursday that the session would be the biggest test for Kupp heading into the weekend, as it's the heaviest on-field work day of the week. The Rams practiced in full pads on Thursday.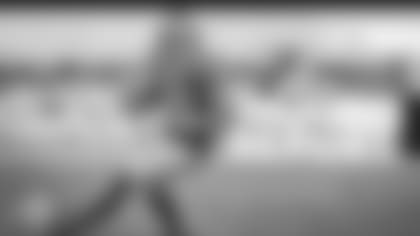 "He was feeling good yesterday," McVay said. "Our belief is that he's going to be good to go."
Following practice, Kupp said he's mentally ready to compete.
"I can't wait to be able to get out there and play again with the guys," Kupp said. "And in my head, I've been trying to tell coach that I'm ready to go. But it's all a process — what's best for this team. I'm going to keep taking this one day at a time and keep working toward my goal of playing on Sunday."
It's only been two games, but the wide receiver said he felt like he was letting his teammates down by not being on the field.
"The first thing that goes through my head as soon as it happens is, 'I'm letting these guys down by not being able to compete,'" Kupp said. "And you put so much time and effort into getting your body ready to play, and then when you're not able to because your body's not allowing you to, you definitely feel like, 'Could I have done more? What else could I have done to prevent this from happening?' So it's been tough, but the guys that we brought in — Nick's [Williams] done an incredible job. And trying to do my best just to support the guys, and whoever I can from the sideline and in the facility here to help in any way that I can.
"But, definitely looking forward to being able to go out there and actually play the game."
Elsewhere on the injury report, cornerback Sam Shields did not participate in Thursday's session with an illness. Also, outside linebacker Trevon Young was a full participant on Thursday. He missed last week's game with a back injury.
Notably on the other side, running back Alvin Kamara missed Thursday's practice with an illness.
Below is the full Thursday injury report for both teams.
C John Sullivan (not injury related)
LT Andrew Whitworth (not injury related)
DE Marcus Davenport (toe)
RB Alvin Kamara (illness)
DE Mitchell Loewen (neck)
OT Terron Armstead (knee)
WR Michael Thomas (shoulder)
WR Cameron Meredith (knee)