Cornerback Aqib Talib has gotten through another checkpoint in his path to returning.
Talib — who has not officially been activated to the 53-man roster — went through Los Angeles' full practice on Wednesday. With rain in the forecast, head coach Sean McVay altered the team's schedule to go through the usual Thursday practice earlier in the week.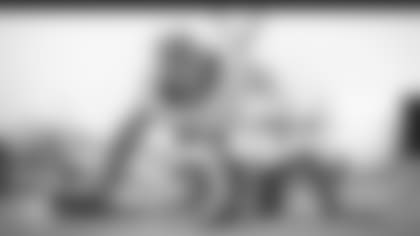 Because of that, McVay said the Rams may have a better gauge of Talib's readiness sooner than they would have otherwise.
"We'll really just move it up a day," McVay said. "With something like that we can always kind of create some different scenarios to continue to evaluate him separate from what we do with the team. So it's not going to have any sort of effect."
Quarterback Jared Goff said he noted Talib's presence on the practice field during Wednesday's session, and the corner was a welcome sight.
"I saw him out there today and was like, 'Oh, there he is — haven't seen him out there for a while,'" Goff said. "Always good to see when he's back out there, and the type of player he is, the type of leader he is for our defense. And we hope to get him back soon."
Elsewhere on the injury report, defensive lineman Ethan Westbrooks did not participate in Wednesday's session with an illness.
Notably on the other side, running back Kerryon Johnson remains sidelined by a knee injury and did not participate on Wednesday. He did not play in last week's Thanksgiving matchup against the Bears.
Below is the full Wednesday injury report for both teams.
C John Sullivan (not injury related)
LT Andrew Whitworth (not injury related)
DL Ethan Westbrooks (illness)
RB Kerryon Johnson (knee)
WR Bruce Ellington (back)
LB Jalen Reeves-Maybin (neck)
TE Michael Roberts (shoulder)