Preseason preparation paid off for second-year offensive lineman Jamil Demby last Sunday.
Called into action after starting RG Austin Blythe went down with an ankle injury in the Rams' home-opener against the Saints, Demby filled in capably.
"It's a game I can definitely build off of," Demby told TheRams.com.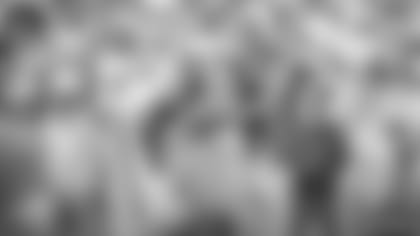 With 6:51 left in the second quarter, QB Jared Goff dropped back to pass on 1st and 20 from the Saints' 24-yard line and tried to connect with TE Tyler Higbee near the Rams sideline. In the process, Blythe rolled his ankle – a setback which would knock him out of the game.
Technically, if one goes by the unofficial depth chart, Los Angeles does not have a true backup right guard. Demby, listed as the team's backup left guard to starter Joe Noteboom, became the next man up.
Surprising as that move may seem – especially considering he primarily played left tackle during his college days at Maine – Demby was very much ready for it thanks to the cross-training he received along the offensive line in the preseason.
"Here's a left tackle from University of Maine and he goes in at right guard. You always ask me, 'Should you move these guys around? Should they be playing all these different spots?' There's a perfect example of why that should happen," run game coordinator and offensive line coach Aaron Kromer said. "He played left tackle his entire career in college and he moved around and he played all the different spots. He even moved to center during this preseason. That experience really helped him play well in this game."
Learning a new position on the offensive line – multiple ones, at that – isn't easy because of mechanical differences between each position as well as understanding the defenses from each, according to Demby.
Still, Demby saw the value in the experiment despite the difficulties that accompanied it.
"It put me in a lot of different situations," he said. "In the preseason, it put me under a lot of stress, but good stress, to be able to learn each position."
Demby was originally drafted by the Rams in the sixth round last year and spent most of the 2018 season on the Lions' practice squad and active roster. While he eventually landed back with the Rams and on their active roster after Los Angeles signed him off of Detroit's practice squad in mid-December, he didn't see any action over the final weeks of the 2018 season and L.A.'s Super Bowl run. Thus, Week 2 marked the first live regular season action of his NFL career.
Goff was asked if any adjustments were made to get the ball out faster against New Orleans' defense. While he was conscious of Demby's lack of experience – a potential factor in that sort of adjustment – he said no changes were necessary.
"He really did a great job," Goff said. "Honestly, I didn't really have to do much."
Blythe's status is currently "day-to-day," and a decision on whether or not he'll play against the Browns will be made later this week, according to Rams head coach Sean McVay.
Should Los Angeles need Demby again, he'll be ready.
"It definitely took a couple plays to get my feet wet, but as the game went on, I gained confidence," Demby said.