The Rams offensive line perhaps faces the most uncertainty of any position group entering the offseason as to who will or will not return for a 2019 run at returning to the Super Bowl.
Left guard Rodger Saffold joins aging offensive linemen in left tackle Andrew Whitworth and center John Sullivan in the upcoming uncertainty as he faces free agency after nine seasons with the club.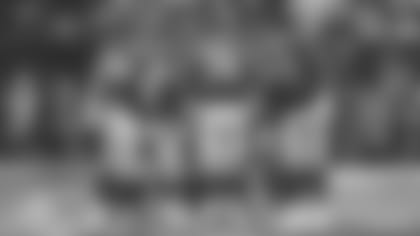 Saffold also joined Whitworth in picking up his first postseason win against the Cowboys in the Divisional round — a welcomed change after an admirable career with wins few and far between since he was drafted No. 33 overall in the 2010 by the Rams. After two winning seasons under head coach Sean McVay protecting quarterback Jared Goff, Saffold sees himself a part of the club once again in 2019.
"Of course," Saffold said when asked if he hope to return to his spot on the line of scrimmage in L.A. "I've said that all throughout the year, so I don't think it's any surprise that I want to be back. At the end of the day though I need to make sure it's something fair for me, something I can not take advantage of, but something that I can feel that I was treated fairly."
Saffold isn't the only one aware of the value he adds to the league's No. 2 offense in 2018.
"Yeah, I would love to have them both back," Goff said of the left half of his offensive line. "They're both tremendous players. Guys that have been huge for us up front, leadership every day in meetings, everything, they've been so big for us."
"[R]odger, he's got a lot of great football in front of him I think, so hopefully it's here with us playing for the Rams," third-year right guard Austin Blythe said this week. "I'd like to have him back because I look up to how he plays, how he carries himself, so hopefully all five of us are back."
The longest-tenured Ram, Saffold's played in 114 games in the horns and his most-recent 16 regular-season outings were some of his best. Saffold's offensive line took home the Built Ford Tough Offensive Line of the Year award at 2019 NFL Honors after leading the way in the Divisional round's multi-back, 238-yard rushing attack and keeping Goff mostly upright in the NFC title game.
But a day after taking home the award for the league's top offensive line, Saffold, Whitworth, Blythe and Co. were beat by the Patriots defense, Goff took 12 quarterback hits and four sacks on 42 dropbacks, and the Rams offense put up just three points — a performance that is tough to go out on.
"I'm sure that there will be conversations in the near future, but at the end of the day, definitely not how I wanted to end my possible last game with this team," Saffold said on Tuesday.
But whether game No. 115 is with the Rams or elsewhere, Saffold doesn't see Super Bowl LIII's outcome throwing the Rams off course.
"It hurts right now, but these guys are resilient, these guys show great poise, and I expect everyone to come back and have another victorious season whether it's with me or without."