The Los Angeles Rams announced today information for fans around the 2017 NFL Draft.
The L.A. Rams will host a Draft Party at the Barker Hangar in Santa Monica from 11am – 3 pm during Day 3 on Saturday, April 29. Fans had the opportunity to register earlier this month for a chance to attend the L.A. Rams Draft Party and those selected will receive their tickets this week.
The L.A. Rams Draft Party will feature Fan Fest activities, appearances by current Rams players, autograph and photo opportunities with Rams Legends and a chance to meet Rampage and the 2017 L.A. Rams Cheerleaders. The L.A. Rams Draft Party will be hosted by Rams reporter DANI KLUPENGER and NFL Network's ANDREW SICILIANO.
Rams Hall of Famer JACKIE SLATER, along with Legends REGGIE DOSS, VINCE FERRAGAMO, DENNIS HARRAH, DAVID HILL, LE ROY IRVIN, MIKE LANSFORD will be available for autographs and photos.
To announce their first pick of Round 4, the Rams will create a video collaboration with The Walking Dead creator ROBERT KIRKMAN and star MICHAEL CUDLITZ. Kirkman and Cudlitz, joined by Vince Ferragamo, will record a message this week from Kirkman's Skybound Entertainment studio that will be played before Ferragamo announces the first of the Rams' fourth round picks live from Santa Monica. Fans may watch the message along with additional The Walking Dead-Rams content on TheRams.com and across the Rams social channels.
The Rams will announce their Day 3 Draft picks live from the Barker Hangar in Santa Monica.  In addition to Ferragamo, USA Olympian, former Los Angeles Galaxy soccer player, and LA 2024 Athletes' Advisory Commission Member COBI JONES will announce a fourth round pick.  Rams Hall of Fame Tackle Jackie Slater will announce the Rams fifth round pick and two local youth football teams will announce the sixth round picks.
The 2017 NFL Draft begins with the first round on Thursday night, April 27 at 5 PM PT and continues Friday, April 28 at 4 PM PT, with Rounds 2-3. The draft will conclude on Saturday, April 29 with Rounds 4-7 starting at 9 AM PT.
The L.A. Rams have eight picks in this year's Draft. On Friday, April 28, Rams Hall of Fame DE JACK YOUNGBLOOD will announce their second round pick and former RB and the Rams 2012 Walter Payton Man of the Year RB STEVEN JACKSON will announce their third round pick live from Philadelphia.
Below is a full list of those scheduled to announce the Rams Draft picks: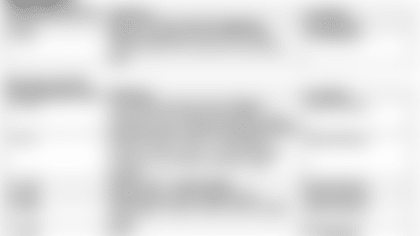 The 2017 NFL Draft will be televised nationally by NFL Network and ESPN/ESPN 2 and can be heard nationwide on Westwood One Radio, SiriusXM NFL Radio and TuneIn Radio. Exclusively for Verizon customers, NFL Mobile offers a live stream of the NFL Network's 2017 NFL Draft coverage, where fans can watch in it's entirely the excitement of every pick, from every round live.
Visit TheRams.com for full Rams draft coverage throughout the weekend and follow the Rams on Facebook, Twitter, Instagram and Snapchat for real-time updates.