NFL teams filming their own practices and scrimmages is so common and routine, it's hard to believe the practice was at one time not in place.
The man responsible for pioneering that?
Former Rams video director Mickey Dukich.
A longtime cinematographer for the team, Dukich introduced that practice in 1956. Nearly 70 years later, that groundbreaking work is recognized with Dukich being part of the inaugural class of 2023 Film/Video Directors Awards of Excellence Winners, joining the Eagles' Mike Dougherty, the Seahawks' Thom Fermstad, the Bills' Henry Kunttu and the Packers' Al Treml.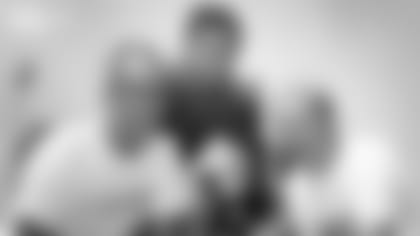 Dukich got into those roles in the mid-1950s, when he moved to California to get into the movie business after graduating from Washington State University. According to a September 2016 article from The Spokane (Washington) Spokesman-Review, he was hired by then-head coach Sid Gillman – who had experience in movie production and wanted to apply that to football – to be the team's first full-time cameraman.
Beyond filming practices and scrimmages, Dukich also helped Gilman break down practice and game film by offense, defense, situation and play. He also took still photos of the Rams in action – the Pacemaker Speed Graphic Camera he used to shoot them early is an artifact in the Pro Football Hall of Fame – and later oversaw a staff of multiple photographers. The Rams eventually hired a team of gameday cameramen and photographers to fully analyze the team's play.
Other teams later adopted Dukich's film work, which also picked up media attention in 1976 via a feature story in the Long Beach Independent.
Perhaps the best reflection of what Dukich meant to the franchise came from Scott Ostler's 1985 column for the Los Angeles Times. Penned by Ostler as part of the team's 40th season in L.A., it asked two longtime staffers from the organization – Dukich and trainer George "Mother" Menefee – to pick their all-time Rams teams. Dukich – whom Gillman nicknamed "The Splicer" – got a nod at the end after making his picks, with Ostler writing that "no all-time Ram team would be complete without Mother and Splicer."
Dukich worked for the Rams from 1956 until 1994, when he retired instead of following the team to St. Louis. He died in September 2016 at the age of 92.
The group of assistant coaches, trainers, equipment managers, film/video directors and public relations individuals who received awards of excellence will be honored June 28-29 in Canton, Ohio.
The awards of excellence was started by the Pro Football Hall of Fame last year to recognize significant contributors to the game.