Although the Rams do not have a first round pick in this year's draft, there are still some outlets which produce mock drafts that go beyond the first 32 selections. Those are what we will be using to highlight predictions for L.A. Barring an unforeseen trade into the first round, the Rams' first pick in the draft will be No. 52 overall in the second round.
Here's a look at the fifth edition of theRams.com's Mock Draft Roundup: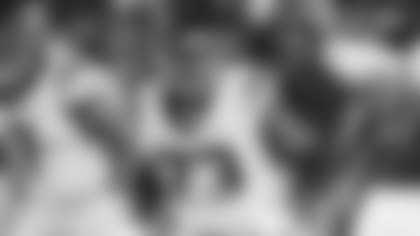 Expert: Charlie Campbell, Senior Draft Analyst
Notes: For the fourth straight week, Campbell projects a running back to be the Rams' first selection. This time, he sticks with Edwards-Helaire for the third consecutive week. In the third round, Campbell sticks with Los Angeles addressing defense with one of their early picks via the selection of Okwara instead of Michigan State defensive lineman Kenny Willekes. Updated with the compensatory picks awarded to teams, Campbell has the Rams using theirs on Heck.
A 2019 All-SEC First Team selection and LSU's team MVP, Edwards-Helaire led the Tigers with 215 carries for 1,414 yards and 16 touchdowns, adding 55 receptions for 453 yards and one touchdown to help his team to an undefeated national championship season. The Baton Rouge (La.) Catholic High product led the SEC in rushing touchdowns and finished second in rushing yards last season en route to being a finalist for the Paul Hornung Award, given annually to the most versatile player in college football.
At the NFL Scouting Combine, Edwards-Helaire shared with Western Michigan's LeVante Bellamy for the third-highest vertical jump (39.5 inches) among the 28 running backs who participated in the drill. Edwards-Helaire also tied with four others for the ninth-longest broad jump (123.0 inches) among the 27 running backs who participated in the drill.
Okwara played along the defensive line in a 4-2-5 base scheme at Notre Dame, though Campbell believes he could fit as an edge rusher in a 3-4 scheme like the Rams have. "Notre Dame listed Okwara (6-4, 252) as an edge defender on the defensive line, but NFL teams had him down as an outside linebacker for the next level on their preseason watch list," Campbell wrote. "It will be interesting to see if Okwara gains weight to become a defensive end or stays lighter and fits as a linebacker. He could be a good fit as a 3-4 outside linebacker as well."
Heck, meanwhile, started all 12 games he appeared in at left tackle for North Carolina, allowing just 1/3 of a sack and Second Team All-ACC honors along the way. Holmes started each of the 10 games he played in, leading UCLA with a pair of interceptions plus six pass breakups en route to honorable mention All-Pac-12 recognition by league coaches.
Expert: Ryan Wilson, NFL and NFL Draft writer
Notes: Wilson has the Rams addressing the offensive line early, then building depth at safety with their compensatory pick.
Jackson was USC's starting left tackle in 2019, starting all 13 games and earning First Team All-Pac-12 honors for his efforts. However, he's not limited to just one spot on the offensive line. "He's scheme-diverse with potential guard flexibility if he improves his strength," NFL Media draft analyst Lance Zierlein wrote on Jackson's profile.
Hennessy was one of three finalists for the Rimington Trophy, awarded to the nation's best center, in 2019. He started in 12 of Temple's 13 games last season as well.
Wallace left Clemson as a third-team All-ACC selection last year and tied with three others for most career games played in school history. Zierlein indicated that Wallace would provide the most value to a club's special teams unit initially.
Expert: Kevin Hanson, NFL Draft writer
The pick(s): Boise State offensive tackle Ezra Cleveland (second round), Boise State edge rusher Curtis Weaver (third round), Mississippi State linebacker Willie Gay Jr. (third round, compensatory selection)
Notes: Even with the Rams addressing defensive and offensive line in free agency with the reported signings of Leonard Floyd and A'Shawn Robinson and re-signings of Andrew Whitworth and Austin Blythe, Hanson has the Rams still adding to both by using their top draft capital on a pair of Boise State products.
Cleveland started all 13 games at left tackle for the Broncos last season en route to his second-consecutive All-Mountain West First Team selection. He helped anchor an offensive line that helped produce the 19th-most points per game in the country (34.7) and blocked for a 1,000-yard rusher for the 12th-straight season. According to Zierlein, he has the ability to play either left tackle or right tackle.
Gay, meanwhile, would add depth at linebacker following the reported departures of Cory Littleton and Dante Fowler in free agency.