It is Mock Draft Monday on theRams.com, where we will be taking a look at various experts' projections for who the Rams will select in the 2020 NFL Draft.
Although Los Angeles does not have a first round pick in this year's draft, there are still some outlets which produce mock drafts that go beyond the first 32 selections. Those are what we will be using to highlight predictions for L.A. The Rams' first pick in the draft will be No. 52 overall in the second round.
For the month of February, we'll be doing this bi-weekly. Once the NFL Scouting Combine officially concludes, we'll do this on a weekly basis leading into the 2020 NFL Draft.
Here's a look at the second edition: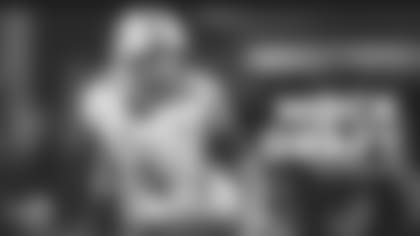 Expert: Chad Reuter, Draft Analyst
The pick(s): Utah edge rusher Bradlee Anae (second round), Ohio State offensive lineman Jonah Jackson (third round)
Notes: In this three-round mock draft, Reuter has the Rams addressing both sides of the line of scrimmage early on. His first projection is Anae at No. 52 overall, followed by Jackson at No. 84 overall.
A consensus All-American in 2019, Anae ranked eighth in FBS (second Pac-12) with 13.0 sacks. His efforts last season earned him the Morris Trophy, given to the Pac-12's top offensive and defensive lineman. He led the Utes in sacks three straight seasons (2017-19), breaking the school record for career sacks with 30.0.
Though Anae primarily played in a 4-2-5 base scheme at Utah, Reuter's NFL Media colleague and fellow draft analyst Lance Zierlein believes he could successfully transition into the Rams' 3-4 base scheme that new defensive coordinator Brandon Staley plans to retain.
"He has the size, hands and strength to play standing or with a hand down, but may have a better chance of becoming a starter as a rush linebacker in a 3-4," Zierlein wrote on Anae's prospect profile.
That could make him a possible replacement for pending free agent Dante Fowler, who lined up as a rush linebacker for the Rams last year while also played standing or with a hand down along the defensive line on occasion.
Jackson, meanwhile, was a fifth-year grad transfer from Rutgers who won a competitive battle for the starting left guard job at Ohio State. Scouting service Pro Football Focus regards him as the No. 2 interior offensive lineman in this year's draft class.
Similar to Anae and Fowler, the selection of Jackson – or any interior offensive lineman, likely will depend on what the Rams do with Austin Blythe, who started games at both guard and center last season and is a pending unrestricted free agent.
Expert: Mike Renner, Lead Draft Analyst
The pick: Appalachian State linebacker Akeem Davis-Gaither
Notes: Renner slots Davis-Gaither to the Rams as a possible replacement for linebacker and pending free agent Cory Littleton. He posted 104 total tackles, 14.5 tackles for loss, five sacks, eight pass breakups, one interception and one blocked field goal on his way to a Fourth Team All-America selection by Phil Steele, Sun Belt Defensive Player of the Year and first-team All-Sun Belt honors. The blocked field goal and interception both came in Appalachian State's 34-31 win over North Carolina.
"Davis-Gaither has all the athleticism and explosiveness to be a plus coverage player in the NFL," Renner wrote. "At only 219 pounds, he's on the small end but earned himself an 82.2 pass-rushing grade on 190 pass-rushing snaps last year helping to prove he knows how to play physically at that size."
Expert: Charlie Campbell, Senior Draft Analyst
The pick(s): Utah running back Zack Moss
Notes: In wake of NFL Network Insider Ian Rapoport's report earlier this month that the Rams plan to meet with running back Todd Gurley to discuss his status for 2020, Campbell projects a 2019 All-American in Moss to L.A. The 2019 Pac-12 Offensive Player of the Year, Moss posted a team-high 1,804 all-purpose yards for 138.8 yards per game – an average also good for 14th-most in the FBS and second-most in the the Pac-12. He was also No. 13 in the FBS and No. 1 in the Pac-12 in rushing touchdowns (15), No. 22 in the FBS and second in the Pac-12 in rush yards per carry (6.0), No. 14 in the FBS and No. 1 in the Pac-12 in total rushing yards (1,416) and No. 12 in the FBS and first in the Pac-12 in rushing yards per game (108.9).
Expert: Eric Edholm, Lead NFL Draft Analyst
The pick: Ohio State linebacker Malik Harrison
Notes: Similar to Renner, Edholm goes with a potential Littleton replacement. Harrison was a First Team All-Big Ten selection by Big Ten coaches after collecting 75 total tackles and two fumble recoveries in his senior season.
"New defensive coordinator Brandon Staley has spent the past three years learning from Vic Fangio, whose system requires strong off-the-ball LB play," Edholm wrote. "Harrison is a high-school QB who has good instincts, is very good in the run game and has the skills to continue to develop in coverage.
Expert: Eddie Brown, NFL Draft Analyst
The pick(s): Washington offensive lineman Trey Adams (second round), Tennessee edge Darrell Taylor (third round)
Notes: In his updated mock draft, which now goes through Round 3, Brown keeps Adams as his projection for the Rams' first selection then has Los Angeles taking an edge rusher with its second.
A First Team All-Pac-12 selection and Phil Steele Fourth Team All-America choice in 2019, Adams has measureables similar to pending free agent Andrew Whitworth – Adams checks in at 6-foot-8, 314 pounds according to his official bio, while Whitworth is listed at 6-8, 330.
"There are durability concerns, but Adams features the size (6-8, 314), power and athleticism the NFL requires in a starting left tackle," Brown wrote.
Like other analysts, Brown also sees the Rams using one of the early picks to find a replacement for Fowler.
"Taylor features prototypical size (6-4, 255) for an edge rusher and showcased a power/speed combo that had scouts talking during Senior Bowl week," Brown wrote.