Although the Rams do not have a first round pick in this year's draft, there are still some outlets which produce mock drafts that go beyond the first 32 selections. Those are what we will be using to highlight predictions for L.A. Barring an unforeseen trade into the first round, the Rams' first pick in the draft will be No. 52 overall in the second round.
Here's a look at the sixth edition of theRams.com's Mock Draft Roundup: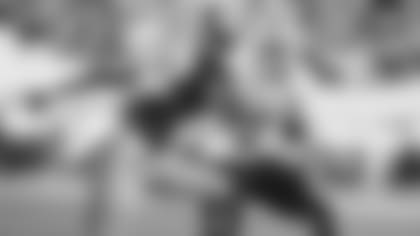 Expert: Chad Reuter, Draft Analyst
The pick(s): Kansas offensive guard Hakeem Adeniji (second round), LSU linebacker Jacob Phillips (third round, No. 84 overall), Western Michigan running back Levante Bellamy (third round, No. 104 overall, compensatory selection, pictured above), Florida defensive lineman Jonathan Greenard (fourth round)
Notes: Reuter expanded his mock draft to four rounds last week, addressing four positions directly impacted by reported Rams free agency arrivals and departures.
Though Los Angeles has reportedly agreed to terms with offensive lineman Austin Blythe and Andrew Whitworth, Reuter has L.A. using its earliest draft pick to add to that position group. Adeniji was a four-year starter at tackle – starting out at right before switching to left midway through his freshman season, then remaining at left the remainder of his career. NFL Media draft analyst Lance Zierlein says on Adeniji's draft profile that he's capable of playing along the interior of the offensive line.
In wake of Cory Littleton's reported signing with the Las Vegas Raiders, Reuter pegs Phillips to bolster the depth at inside linebacker. Phillips started all 15 games at middle linebacker for LSU last fall, posting a team-high 113 total tackles during its national title-winning season.
Additionally, with Todd Gurley reportedly signing with the Atlanta Falcons, Reuter predicts the Rams add to their running back room by selecting Bellamy. One of 10 semifinalists for the Doak Walker Award (given annually to college football's best running back), Bellamy rushed 266 times for 1,472 yards and 23 touchdowns. By also catching 15 passes for 55 yards, he totaled 1,527 all-purpose yards to became the third player in Western Michigan history to reach 1,500 all-purpose yards in a season two or more times.
Florida edge rusher Jonathan Greenard rounds out the projections, likely in connection with Dante Fowler's reported signing with the Atlanta Falcons. The grad transfer from Louisville earned First Team All-SEC honors after tallying 19 sacks, 122 total tackles, three interceptions and four forced fumbles in his lone season as a Gator.
Expert: Charlie Campbell, Senior Draft Analyst
The pick(s): Ohio State running back J.K. Dobbins (second round), Notre Dame defensive lineman Julian Okwara (third round, No. 84 overall), North Carolina offensive lineman Charlie Heck (third round, No. 104 overall, compensatory selection), UCLA cornerback Darnay Holmes (fourth round)
Notes: Campbell maintains his prediction that the Rams use their first selection on a running back. After sticking with LSU's Clyde Edwards-Helaire over the previous three weeks, his newest projection slots Dobbins to Los Angeles. Campbell also sticks with Okwara, Heck and Holmes as L.A.'s next three choices.
One of three finalists for the Doak Walker Award, Dobbins became the first running back in school history to surpass the 2,000-yard mark, finishing with 2,003 rushing yards and 21 touchdowns. He also finished sixth in Heisman Trophy voting and was a First Team All-America selection by the Football Writers Association of America.
Okwara played along the defensive line in a 4-2-5 base scheme at Notre Dame, though Campbell believes he could fit as an edge rusher in a 3-4 scheme like the Rams have.
Heck, meanwhile, started all 12 games he appeared in at left tackle for North Carolina, allowing just 1/3 of a sack and Second Team All-ACC honors along the way. Holmes started each of the 10 games he played in, leading UCLA with a pair of interceptions plus six pass breakups en route to honorable mention All-Pac-12 recognition by league coaches.
Expert: Ryan Wilson, NFL and NFL Draft writer
The pick(s): Ohio State offensive lineman Jonah Jackson (second round), Texas Tech linebacker Jordyn Brooks (third round, No. 84 overall), Syracuse edge rusher Alton Robinson (third round, No. 104 overall, compensatory selection)
Notes: Wilson previously had the Rams using their first two choices on offensive linemen. His latest projections still have Los Angeles addressing that position early, but have also been adjusted to account for Littleton and Fowler's departures.
Brooks collected Second-Team All-American recognition and First-Team All-Big 12 honors after posting a team-high 108 total tackles plus three sacks in 11 starts. Zierlein views him as a potential starter at inside linebacker for whichever team drafts him.
A three-year starter at defensive end, Robinson primarily played in a 4-2-5 base defense at Syracuse. CBS Sports declared him one of seven "winners" at the Senior Bowl in January after he finished with at least 1.5 sacks. He collected 46 total tackles, 4.5 sacks, three pass breakups and one forced fumble as a senior in 2019. He is a two-time All-ACC selection and two-time winner of Syracuse's Tim Green Award, given annually to the team's most outstanding defensive lineman.