The Rams used their ninth selection in the 2023 NFL Draft on TCU cornerback Tre'Vius Hodges-Tomlinson, who was chosen in the sixth round, 182nd overall.
Here's what you should know about him: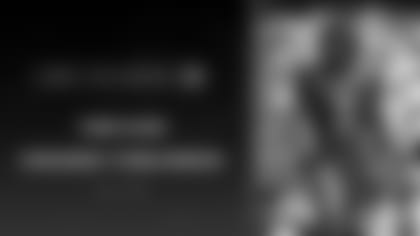 Hodges-Tomlinson played running back early in his high school career before making the switch to defense.
Hodges-Tomlinson's 38.9 passer rating in coverage last season was the lowest among Big 12 corners, according to Pro Football Focus.
3) Maybe you've heard of his uncle
Hodges-Tomlinson is the nephew of Pro Football Hall of Famer LaDainian Tomlinson.
The Rams' draft class took on a TCU flavor, as Hodges-Tomlinson was one of multiple former Horned Frogs picked by the Rams, joining guard Steve Avila, outside linebacker Ochaun Mathis (transferred to Nebraska) and running back Zach Evans (transferred to Mississippi).
5) The Rams' biggest draft steal, according to one expert
"I am of the opinion that if Hodges-Tomlinson was six feet tall and weighed 200 pounds as opposed to his 5-foot-8, 178-pound frame, we would have been talking about him as a first-round prospect right up there with Devon Witherspoon, Christian Gonzalez, and Joey Porter, Jr.," Farrar wrote as part of his analysis. "Hodges-Tomlinson was one of the best deep-ball defenders in the NCAA last season, and overall, he allowed just 28 catches on 81 targets for 365 yards, 75 yards after the catch, two touchdowns, three interceptions, 10 pass breakups, and an opponent passer rating of 42.5."