Outside linebacker Dante Fowler Jr.'s arrival in Los Angeles midway through the 2018 season coincided with the final year of his rookie contract. When it expired the following offseason, the Rams re-signed him to a one-year deal.
In that contract year, Fowler was a crucial piece to L.A.'s pass rush. His career-high 11.5 sacks ranked second on the team behind defensive tackle Aaron. Perhaps most impressive, though, was that the total exceeded came in his first season as a full-time starter. Another half of a sack, and he would've matched his total from 2016-18 combined.
That one-year contract has now run its course, and Fowler is scheduled to become an unrestricted free agent when the new league year begins March 18.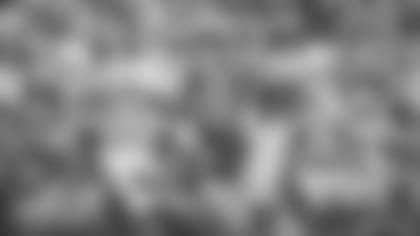 So what are Fowler's options as he prepares for free agency for the second time in as many years? For starters, they're similar to the last offseason.
The Rams could place a tag on Fowler — either the transition tag, non-exclusive franchise tag, or exclusive franchise tag. The transition tag would allow the Rams to match any offer Fowler receives on the open market. The non-exclusive franchise tag would allow Fowler to negotiate with other teams, but if he reached a deal with another team, that team would owe the Rams significant compensation to sign Fowler. And the exclusive franchise tag would prevent Fowler from negotiating with other teams.
If Fowler received a tag and signed it, he would be under a one-year contract with the Rams. Additionally, the team would have until July 15 to sign Fowler to a long-term deal.
The Rams could also re-sign Fowler either before or after the start of free agency to keep him in the fold on a multi-year deal.
If Fowler does not re-sign, one potential option to fill his role internally is second-year outside linebacker Obo Okoronkwo. The former Oklahoma star flashed as a possible replacement in 10 games, finishing with seven total tackles and 1.5 sacks in a reserve role in the rotation.
Fowler's performance in 2019 will no doubt command a lucrative contract at his position on the open market. But as we've touched on in Offseason Outlooks for defensive lineman Michael Brockers and inside linebacker Cory Littleton, the Rams are aware that they can't afford to keep everybody.
All told, Fowler represents another one of the tough choices Los Angeles will have to make this offseason.