THOUSAND OAKS, Calif. – The possibility of a fresh start with a new NFL team was not one offensive lineman Austin Blythe wanted to process as he entered the new league year as an unrestricted free agent.
That uncertainty, though, didn't take long to disappear. He is returning to the Rams by way of a 1-year deal with the club.
"I had a hard time thinking about starting over," Blythe said on a conference call with local media Wednesday. "So to have an offer that was a good offer to return to play for the Rams and Coach Sean McVay, Aaron Kromer, all those guys in the organization, was a relieving feeling."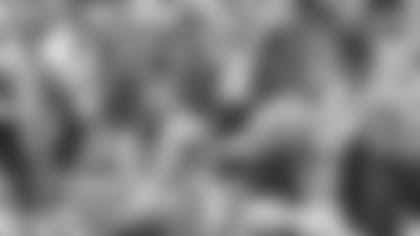 The 2020 season marks Blythe's fourth in Los Angeles and fifth overall in the NFL. He originally entered the league as a seventh-round pick by the Indianapolis Colts in 2016. Since being claimed off waivers by the Rams in 2017, the 27-year-old offensive lineman has missed only one regular season game over the last three seasons.
When Los Angeles' offensive line endured an atypical amount of injuries to its starters in 2019, Blythe played a crucial role in stabilizing it and helping allow a league-low 22 sacks. He began last season as the team's starting right guard, flipped to left guard, then moved over to center after Brian Allen suffered a season-ending knee injury in Week 10.
"It was an easy transition," Blythe said. "(Playing the center position) was kind of going back to my bread-and-butter, I would say. I think I've felt really comfortable in all three positions on the interior of the o-line, but playing center is like riding a bike. I welcomed it a little bit. Unfortunately Brian did get hurt, and luckily he's going to be back with us and we're going to have a lot of depth and a lot of things to figure out."
Blythe said he is comfortable playing multiple positions again if that's what the team needs in order to be successful.
"I think I've shown over the last several years that all three positions have been fairly comfortable for me and whatever position I end up landing in, whatever position the Rams need me to play, I'm confident that I'll play well," Blythe said. "Looking forward to a good season."
Prior to re-signing with Los Angeles, the Blythes became a family of four after his wife, Kiley, gave birth to a baby girl in late January. They have been spending the offseason in Austin's hometown of Williamsburg, Iowa. His parents have a home gym that has allowed him to continue his offseason workouts with gyms and team facilities closed in response to the COVID-19 pandemic.
"It's been wild," Blythe said. "It's a bittersweet time right now just because this quarantine has given us a lot of family time together. A lot of family time that I didn't necessarily have with (my son) Reed when he was an infant. So getting to spend that time with Kiley and kind of catch up on time with Reed and Kylie just as a family of a new family of four, it's been really good."