Before this week, Falcons head coach Dan Quinn thought he would be preparing for a secondary led by cornerbacks Marcus Peters, Aqib Talib and Nickell Robey-Coleman.
Plans changed by Tuesday night.
Talib was placed on injured reserve with a rib injury, and Peters was traded to the Ravens for LB Kenny Young and an undisclosed 2020 pick. The decisions created an opportunity for the Rams to trade for two-time Pro Bowl CB Jalen Ramsey, consequently causing Quinn to alter his gameplan.
"I definitely want to call (Rams General Manager) Les (Snead) and (Rams Head Coach) Sean (McVay) and give them a piece of my mind," Quinn said jokingly on a conference call with Rams beat writers this week.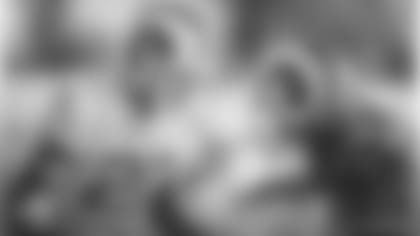 Quinn understands these trades happen before the deadline, which falls on Oct. 29 this year. The Rams' exchange with the Jaguars for Ramsey took place two weeks before.
The way it impacts how a team plans for an opponent who acquires a player of Ramsey's caliber depends on the position.
Quinn explained that In Atlanta's case, an outside corner like Ramsey primarily impacts how a wide receiver prepares for the game, studying film of how he presses – or plays up to close to a receiver at the line of scrimmage prior to the snap – other receivers in order to jam them and disrupt the timing between them and their quarterback and what he looks like in man-to-man coverage.
"Heading into the game planning obviously, you're making tapes of Marcus and Aqib and Troy, and Robey and the guys when they were in man-to-man looks," Quinn said. "Now, you have to add into that space when you add a guy like Jalen (Ramsey. You want to make sure you have their looks — what are his techniques, man-to-man, so when you're in practice, you can try to at least, get some of the same mannerisms, you won't get the same exact looks, the guy's a perfect player so you won't know that before you do something. He really wants the challenge or he's going to bail, or he's playing man-to-man. Those are the things I think that you can gain from the study part."
Ramsey was on Quinn's radar long before this week's game between the Rams and the Falcons.
A five-star prospect coming out of Brentwood Academy in Nashville, Tennessee, Ramsey's recruitment overlapped with Quinn's two seasons as the University of Florida's defensive coordinator from 2011-12.
Prospective student athletes at that time could only take five official visits and they had to be done during their senior year of high school. Those visits, defined by the NCAA as when a prospective student-athlete visits a college campus paid for by the school, are usually a strong indicator of mutual interest between the athlete and the school.
Ramsey's official visit to Florida took place the weekend of Sept. 21, when Florida hosted Kentucky, according to his Rivals.com profile.
While Quinn's defense helped lead the Gators to a 38-0 shutout of the Wildcats on Sept. 22, it wasn't enough to sway Ramsey from eventually choosing rival Florida State, where he spent three seasons before becoming the No. 5 overall pick in the 2016 NFL Draft.
Quinn rejoined the Seahawks for his second stint in Seattle before Ramsey became a Seminole, but can still recall the traits that would make him a successful pro football player.
"I remember him all the way back then as a really competitive guy," Quinn said. "I think it's his burst, that he can play at the line of scrimmage. When you are defending somebody man-to-man and a guy tries to break you off, based on your leverage, he's somebody that can still win, even though the receiver is working a certain leverage. You can imagine how difficult that is to do, because usually in a man-to-man your either inside-leverage or outside-leverage. Not only is he strong enough to hold and maintain it, when the receiver breaks inside, he's able to stay and play really tight deny-the-ball defense."
Seven years later, Quinn is scouting Ramsey again.
This time, though, it will be his second as a member of the opposing team.
"They are getting a really good player and an excellent competitor," Quinn said. "I think any time you add that to your defense, obviously you're bringing that kind of intensity to your game. You definitely see why they wanted to add him to the group."