It's not just the city of Pittsburgh that shares long-time respect and admiration for Aaron Donald.
Just ask Steelers head coach Mike Tomlin, who expects the local star to be welcomed accordingly when the Rams come to town on Sunday.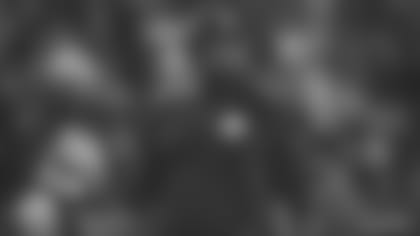 "He will be well received because he is a member of our community," Tomlin said. "This is a guy that's Pittsburgh born and raised. Went to (University of Pittsburgh) Pitt and is still very active in our community and is a big-time inspiration to the young people. Being a father of teenage boys, I've witnessed it. The way he works out alongside young people in the offseason and allows those guys to get close to him and see what work ethic is about and stuff is really inspirational."
Tomlin is reminded of Donald's impact every time he shows up to practice.
The Steelers and Donald's alma mater share the same practice facility – the UPMC Sports Performance Complex. It includes the Duratz Athletic Complex, which renamed its ground floor after him following his seven-figure donation this spring which made him the youngest Pitt player ever to make that kind of financial commitment.
Pittsburgh is Donald's offseason home, so it's not uncommon for the two of them to cross paths on occasion. During a 2015 conference call with media who cover the Rams, Tomlin recalled seeing Donald arrive in the parking lot every morning at 6:30 for his workouts the week after the Pro Bowl earlier that year – a time when most players are at the beach or on vacation.
Four years later, that work ethic is still the same.
"I see him just about every day. He's a worker, an early worker," Tomlin said. "If I don't see him utilizing their facilities, I see him in the parking lot – things of that nature."
As Tomlin alluded to, Donald has humbly used his platform to give back to his hometown.
Besides his historic monetary contribution to Pitt, Donald also founded his AD99 Solutions Foundation this year. It aims to optimize the quality of life Pittsburgh's underprivileged youth by giving them athletic and academic resources and opportunities not available in their home or school.
"I've had an opportunity to get to know him ever since he's been 18 or 19-years old," Tomlin said. "I'm not surprised by the ridiculous success that he's had. He's unbelievably talented, and his work ethic and approach to business is probably equally impressive. It is a perfect storm, if you will."
Tomlin said Donald needs no endorsement from him, being the two-time and reigning NFL Defensive Player of the Year.
To the city of Pittsburgh, he is that – and so much more. The reception from the crowd at Heinz Field should serve as sufficient evidence.
"I think this community really loves him and always will because of those things, just how he conducts himself," Tomlin said.