There's a handful of new jersey numbers flying around and making plays on the Rams defense as OTAs are well underway in Thousand Oaks, Calif. Along with the perhaps more recognizable No. 52 — outside linebacker Clay Matthews, and No. 32 — safety Eric Weddle, is No. 59 Micah Kiser at the linebacker spot.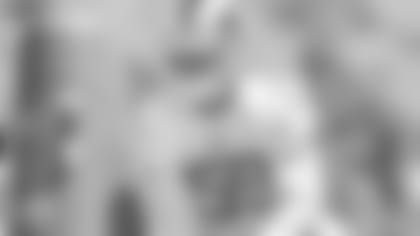 Gearing up for his second professional season in L.A, Kiser is receiving significant reps with the first unit on defense, and with OTAs has come the first look at the club's in-house solution for the vacancy left at linebacker following Mark Barron's departure.
After a particularly strong showing for the defense during OTAs Day 5, Kiser smiled and acknowledged what might be his opportunity.
"You know, we're a deep team, we have a lot of great safeties, a lot of great linebackers," Kiser said. "So whatever my role is, I just run with it. That's just who I am — just go out, be my best, do my thing on special teams, try to play more on defense and just have fun with it and help the team win."
The former University of Virginia Cavalier took 62 percent of special teams snaps as rookie, but didn't even step onto the field on defense. Now, with indications pointing toward Kiser becoming a key member of Phillips' group, he's set to lean on valuable experiences in practice and learning the playbook from year one.
"I think I was at an advantage too because I was on the scout team all last year going against out offense," Kiser said. "So going against them every single week, I kind of know all the motions and stuff like that — you start to get a good feel for it and what to expect