Following each media session, Quotes and Notes will bring you what was said, who said it, and what it means for your Los Angeles Rams.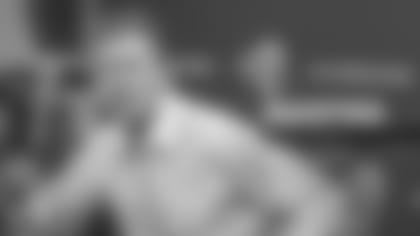 "There were are a lot different scenarios that we played through, this was certainly one that we anticipated, and again, it's something that we feel really good about."
-HC SEAN McVAY
The Rams decision to trade back with their first-round selection on Thursday night was anticipated by Rams fans, the media, and head coach Sean McVay and general manager Les Snead alike.
The Rams sent their No. 31 and No. 203 picks to the Falcons for a second-round pick (No. 45) and third-rounder (No. 79), marking the third-consecutive year the Rams will go without a first-round selection.
"Big, fast pass rushers are probably always intriguing in the NFL."
-GM LES SNEAD
Snead was asked about his thoughts on the pass rushers in the 2019 draft class — specifically former Mississippi State defensive end Montez Sweat, who slid to No. 26 where he was selected by Washington.
The GM was candid in his response — perhaps worth noting heading into day two, where the Rams are set to pick four times.
There were 11 defensive linemen selected in the opening round.
"We felt like it would be better to have another third-round pick and have, at the end of the day, four picks in the top 100 instead of just three."
-GM LES SNEAD
The defending NFC Champions now hold seven picks in the 2019 NFL Draft and are slated to make their first pick at No. 45 overall on Friday evening.
Earlier in the week, both Snead and McVay spoke about the value in scanning the second, third, and fourth rounds for potential fits like former third-round pick Cooper Kupp, or fourth rounders Samson Ebukam and wide receiver Josh Reynolds.
"There's going to be a lot of good football players drafted tomorrow for a lot of teams."
-HC SEAN McVAY
McVay confirmed that strong scouting into the middle rounds of the draft has led to confidence heading into year three, saying the club has been able to take a more specific and strategic approach on draft night.
Snead and Co. made what's becoming a first-round Rams tradition deal with his former club, and the plan now is to "tighten things up" for tomorrow's haul of young talent.