Following each practice, Quotes and Notes will bring you what was said, who said it, and what it means for your Los Angeles Rams.
"I can't thank [Rams owner/chairman] Mr. [Stan] Kroenke enough for investing in me and letting me finish my career here and be a part of doing something special here." -DT AARON DONALD
Defensive tackle Aaron Donald expressed gratitude toward Rams owner Stan Kroenke and other members of the Rams' front office including Rams' COO Kevin Demoff and VP of football and business administration Tony Pastoors after signing his six-year contract extension on Friday afternoon.
Donald opened by sharing how difficult it was to be away from the team how excited he was to play the game he loves.
He then called being extended by the Rams "a blessing."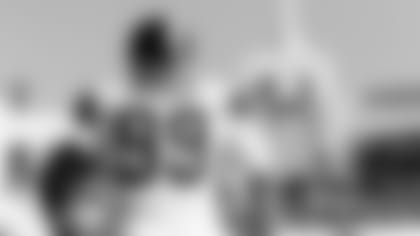 "Trying to win a world championship. That's the end goal." -DT AARON DONALD
When asked about his conversation with now-teammate Ndamukong Suh from when Suh was deciding where to play in 2018, Donald said he and Suh were attempting to align on a similar mindset — focused on winning it all, and what it will take.
On Friday, Donald also talked about how excited he is to start working with his fellow defensive linemen Suh and Michael Brockers.
Donald has played alongside Brockers for four years with the Rams, while today marked the first time Donald and Suh took the field as teammates.
The starting front line of Wade Phillips' defense has now officially combined for 109.5 career sacks.
"It was just more not talking about the business side, just talking about how I was doing, asking about the family and things like that. " -DT AARON DONALD
Head coach Sean McVay constantly faced questions surrounding whether or not he had personally talked to Donald or not over the duration of Donald's absence.
Friday, Donald provided a look inside those conversations, saying many of them were personal in nature — McVay just checking up on his defensive star.
Donald was appreciative toward his head coach for reaching out to him about life outside of football.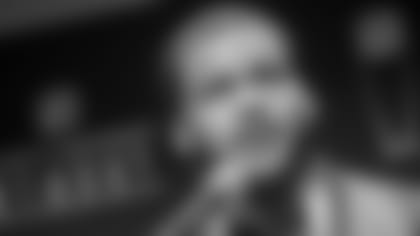 "Now you guys realize I wasn't messing around the other day." -HC SEAN McVAY
Following Friday's practice, McVay faced questions that for the first time in a long time that did not include, "Do you have an update on Aaron Donald?"
McVay commented on his Tuesday press conference on Friday afternoon. On Tuesday, McVay seemed to be especially giddy, borderline teasing reporters who asked about his star defensive tackle.
It turns out McVay was serious when he said, "See you soon, buddy."
"As coaches and really as teammates, you want to see guys get rewarded." -HC SEAN McVAY
Although Donald may be the most noteworthy player "rewarded" by the Rams this offseason, he was not the first.
Wide receiver Brandin Cooks, running back Todd Gurley, and offensive lineman Rob Havenstein were all extended this offseason.
McVay expressed that Demoff, general manager Les Snead, and Pastoors have had a plan in place to keep their core group together in L.A., and have a plan for future contract moves for players like corner Marcus Peters and quarterback Jared Goff.
"As soon as it was pretty much agreed upon, his rep said, 'You know what, Aaron's not waiting till 11 a.m., so he might be there any minute now,' and it was probably within about five, seven minutes, Aaron showed up 35-minutes early. " -GM LES SNEAD
Snead met with reporters to provide some of what went on behind the scenes the day of Donald's new deal.
Snead expressed that Donald arriving early to his first day back on the job in L.A. was quite characteristic of the Pitt product.
Donald also expressed how ready he was to get the deal done, calling it "a stressful process."
"Usually once you get to the 'same zip code' in these deals — same with Rob [Havenstein], Brandin [Cooks], Todd [Gurley] — you say, 'OK, we should be able to get this done.'" -GM LES SNEAD
Snead was asked when he knew Donald's deal would be done, he replied that he had an idea it would be done when the team was in Baltimore practicing with Ravens during the second week of training camp.
Snead also said that the lull in NFL action from the start of training camp to the first regular season game, compounds the wait for deals like Donald's to get done.
The Rams' approaching season opener in Oakland seems to have been a be a strong motivating factor to get the deal done. According to Snead, neither party wanted to see Donald miss any regular-season action.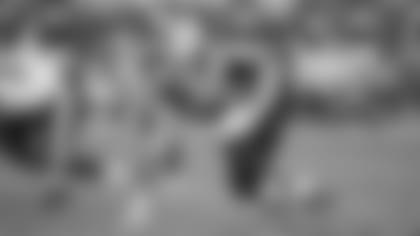 "Everyone with common sense knew that at minimum, Aaron Donald was going to be the highest-paid defensive player in football." -GM LES SNEAD
When asked if there was any uncertainty whether or not the deal would be done at all, or if there were only details to hash out between the Rams and Donalds representation, Snead claimed he saw Donald's record-breaking contract coming.
The Rams met the "baseline" specifications of the deal on Friday, extending Donald for six years, and making him the highest-paid defensive player in NFL history.
"We have a strategic plan over the next couple weeks to get him up to speed." -HC SEAN McVAY
Friday marks the end of Donald's second consecutive season missing time due to contract negotiations.
McVay was asked whether or not last year's plan to acclimate Donald will serve as a template for 2018. McVay said that it's fortunate that they have a bit more time to prepare with Donald ahead of Monday Night Football on Sept. 10, and his staff has a specific plan in place to prepare No. 99.
Donald missed the first game of the season against the Colts in 2017.
"There's a human element — these are guys that this is a job, this is how they support their families in a lot of ways, and it's never fun no matter how you put it." -HC SEAN McVAY
Finally, McVay talked about the tougher part of his day — making cuts.
McVay said about important it is to show appreciation and provide explanation to players who will not make the Rams 53-man roster come Saturday's deadline.
The Rams trimmed their roster by 24 names on Friday, with more cuts to come on Saturday.