The Rams entered the 2019 NFL Draft set to pick seven times, but a series of trades starting in the first round landed general manager Les Snead and the defending NFC Champions eight young prospects — each of whom Snead says could play a role in 2019.
Here's a look at how the Rams 2019 draft class grades out across the sports media landscape: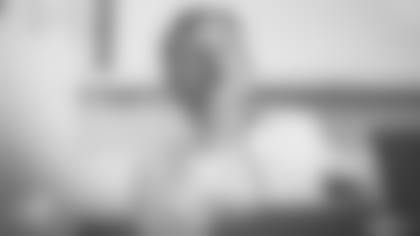 Best pick: Third-round tackle Bobby Evans impressed me leading up to the draft and could be the player to take over when Andrew Whitworth retires. Worst pick: I like third-round back Darrell Henderson, but did they really need to use a pick on a back that high? What's that say about Todd Gurley's knee? The skinny: They didn't have a first-round pick because of a trade, so they didn't pick until No. 61 in the second round. They took safety Taylor Rapp with that pick, and he will spend next season watching Eric Weddle and John Johnson. So it's a future pick. I did like fifth-round (sic) defensive tackle Greg Gaines."
Most Notable Pick: Taylor Rapp, S, Washington (No. 61). The Los Angeles Rams traded out of the first round and still managed to land Washington safety Taylor Rapp. That's a big win, as Rapp was one of the top safeties in this class. He slid because of a poor 40 time (4.76 seconds), but he is a legitimate first-round talent."
"Let's just say this is a 180 from the superstar free-agent haul Les Snead gathered in the 2018 offseason to turn the Rams into NFC champions. The Rams strangely ignored their need to boost their interior offensive line and edge pass rush early. Rapp and Henderson have real bust potential and both Long and Evans were reaches, leaving Gaines as their one truly OK pick."
Grade: 'Getting roster protection'
"Cornerbacks Marcus Peters and Aqib Talib are free agents after this season. If the Rams can't retain both, they should be fine after landing Michigan cornerback David Long in the third round."
"That's GM Les Snead dropping down 30 spots and picking up two extra third-round picks and a fifth-rounder (they also gave a sixth-rounder to Atlanta), an excellent example of using his board to pick up more capital. And so with top nose tackle Dexter Lawrence off the board early, it made sense for the Rams to see how the safety class shook out. Taylor Rapp fell into their lap at No. 61. I expect him to see the field early and often, though he's not a straight replacement for Joyner. His 4.74-second 40 at this pro day was a big red flag, but I love his tape."
"The defending NFC champs traded out of the first round but did extremely well by getting S Taylor Rapp late in the second. The first of their three third-round choices was RB Darrell Henderson, perhaps a reflection of lingering concerns about Todd Gurley's workload and the condition of his knee."
"General manager Les Snead must have seen all of his first-round prospects come off the board, as the Rams traded back to No. 45 overall (from No. 31) so the Falcons could select Kaleb McGary. I liked that the Rams picked up a third (No. 79, in addition to the 45th overall pick) in the deal. Additional moves took L.A. out of the top 60 selections. Rapp is simply a heady football player who finds his way to the ball despite possessing average athleticism for the position. I suspect he'll be a long-term starter once Eric Weddle retires (or if the veteran can't stay healthy this year). Henderson's size was brought up in the process, but guys had a hard time tackling his compact build. L.A. needed depth at corner, and Long was a good value in the third round. Evans isn't an elite athlete, but he could be a fair swing tackle, which the Rams need."