It is Mock Draft Monday on theRams.com, where we will be taking a look at experts' projections for who the Rams will select in the 2023 NFL Draft.
With draft week two weeks away, the most recent projections feature several edge and defensive back options for the Rams.
Here's a roundup of the latest predictions: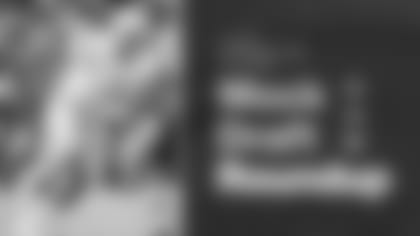 Expert: Chad Reuter, Draft Analyst
The pick(s): Notre Dame EDGE Isaiah Foskey (Round 2, No. 46 overall via projected trade with Patriots, pictured above); Michigan CB DJ Turner (Round 3, No. 69 overall); Boise State S JL Skinner (Round 3, No. 77 overall)
Notes: Foskey (6-5, 264) had the sixth-most sacks in the FBS (11) last season and also led the Fighting Irish with 14 tackles for loss en route to Second-Team All-American recognition and being a finalist for the Ted Hendricks Award (nation's top defensive end).
Turner (5-11, 178) registered 10 pass breakups (team-high) plus 36 tackles and an interception in 14 games for the Wolverines to earn Second-Team All-Big Ten honors. His 40-yard dash time of 4.26 seconds made him the fastest player at this year's NFL Scouting Combine.
Skinner (6-4, 209) led the Broncos with four interceptions, also adding 65 total tackles and four pass breakups in 12 starts for First-Team All-Mountain West recognition. He suffered a torn pectoral muscle while training prior to the combine that prevented him from participating in it.
Expert: Josh Edwards, NFL Draft writer
The pick(s): North Dakota State OT Cody Mauch (Round 2, No. 36 overall); UCLA RB Zach Charbonnet (Round 3, No. 69 overall); Auburn EDGE Derick Hall (Round 3, No. 77 overall).
Notes: An FCS First-Team All-American choice by The Associated Press, the 6-5, 302 Mauch started all 15 games at left tackle in 2022 and 2021 for the Bison. While Mauch primarily played offensive tackle, NFL Network Draft Analyst Daniel Jeremiah said during a video conference call last month that he should able to play anywhere along the offensive line.
Charbonnet (6-0, 214) earned Second Team All-America recognition from the AP in 2022 after rushing 195 times for 1,359 yards and seven touchdowns in 10 starts (missed three games due to injury).
Hall (6-3, 254) led the Tigers with 12 tackles for loss and seven sacks, also posting 60 total tackles and two forced fumbles in 12 starts last season to earn First-Team All-SEC honors.
Expert: Todd McShay, Senior Draft Analyst
The pick(s): Georgia CB Kelee Ringo (Round 2, No. 36 overall)
Notes: Ringo (6-2, 207) led the Bulldogs with seven pass breakups, adding 42 tackles and two interceptions while starting all 15 games for the back-to-back national champions. His performance garnered Second-Team All-SEC recognition.