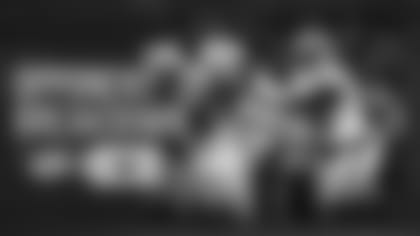 2022
Despite a 27-26 season-opening win over division rival Atlanta, New Orleans had difficulty sustaining consistency the rest of the season.
That Week 1 win saw starting quarterback Jameis Winston sustain a back injury which played through the next two weeks, and, even once healed from, kept him on the bench in favor of Andy Dalton. A three-game losing streak followed that victory, which was then followed by a pattern of a win, followed by back-to-back losses over the next nine weeks.
Back-to-back wins after their Week 10 bye made still put the Saints in playoff contention since the NFC South still had not been clinched heading into Week 17. All that had to do was win out and have the Buccaneers lose out, plus losses by the Commanders and Packers. The Buccaneers and Commanders won, but so did the Packers, ending New Orleans' playoff hopes.
The Saints finished the 2022 season 22nd in scoring average and 19th in total yards of offense per game, but also allowed the ninth-fewest total yards and fifth-fewest points per game defensively.
Key changes
New Orleans parted ways with co-defensive coordinator/secondary coach Kris Richard. Meanwhile, their other co-defensive coordinator, Ryan Nielsen, took the Falcons' defensive coordinator job. Marcus Robertson was hired to replace Richard, while Joe Woods – most recently the Browns' defensive coordinator for the past three seasons – was hired to fill that role.
The Saints also signed free agent quarterback Derek Carr to a 4-year deal.
Head coach
Dennis Allen enters his second season as head coach of the Saints. He compiled a 7-10 record in his first year.
What to watch for
The Rams experienced the impact of wide receiver Chris Olave first-hand last Saturday, and while he will no doubt command the attention of the secondary, perhaps the biggest factor for the Saints offense will be the health and availability of wide receiver Michael Thomas.
Thomas has not had a fully healthy season seince 2019, when he posted 149 receptions for 1,725 yards and nine touchdowns. In 2020, a lingering ankle injury limited him to just seven games. He then missed the entire 2021 season after going ankle surgery late that summer. A foot injury in Week 3 prematurely ended his 2022 season.
With greater stability at quarterback and a clean bill of health, what will the 30-year-old Thomas bring in 2023? If he can come close to resembling the player who produced at a high level from 2016-19, it will make for a challenging matchup for the Rams secondary with Olave and emerging wide receiver Rashid Shaheed also in the mix.