THOUSAND OAKS, Calif. –Speaking to a group of Rams beat writers Tuesday morning at the team's facility, general manager Les Snead would much rather have been preparing for a playoff game rather than talking about the end of a 9-7 season that saw Los Angeles miss the postseason and began its offseason earlier than usual.
In spite of that disappointment, Snead believes L.A. still has a strong foundation to continue to lean on heading into 2020.
"There's always going to be changes, and there's changes needed for improvement," Snead said. "But (I) do think we have a core here of players that are in their prime that can still contribute and help us win like they have the last three years."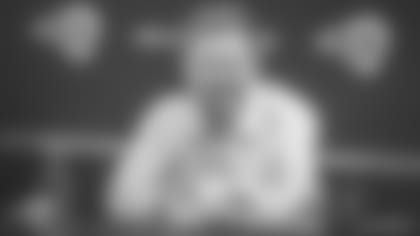 Indeed, the Rams have several players who are locked in for the foreseeable future.
Defensive tackle Aaron Donald and quarterback Jared Goff both signed extensions prior to the start of the 2018 and 2019 seasons, respectively, that will keep them under contract through 2024, while tight end Tyler Higbee later signed an extension prior to 2019 that will keep him under contract through 2023. Running back Todd Gurley, wide receiver Brandin Cooks and punter Johnny Hekker are also under contract through 2023.
Among that group, Donald led the NFL in sacks for the fifth straight season. Goff became the first quarterback in franchise history with back-to-back 4,000-yard passing seasons. Tight end Tyler Higbee single-season franchise records for catches and receiving yards. Gurley tied Eric Dickerson for most seasons (4) with 10 or more rushing touchdowns in club history and also tied Marshall Faulk on the franchise's career rushing touchdowns list (60).
Beyond the veterans, three of the Rams' eight-man 2019 draft class earned starting roles in their first professional seasons, including safety and second-round pick Taylor Rapp, offensive linemen and third-round pick Bobby Evans and offensive lineman and fifth-round pick David Edwards. Rapp started in 10 of the 15 games he played in, Evans seven of nine. Edwards played in all 16 games, logging 10 starts.
"They may have come on and played a little earlier than we wanted to, but give that crew as they were inserted," Snead said of Evans and Edwards. "I give Sean (McVay) and his staff credit, to be able to make adjustments."
The challenge, however, is figuring out what other core players to keep.
Among the other starters who have also shared in the success in recent seasons, left tackle Andrew Whitworth, defensive lineman Michael Brockers, outside linebacker Dante Fowler, inside linebacker Cory Littleton, kicker Greg Zuerlein and offensive lineman Austin Blythe are all scheduled to become free agents in 2020.
"What's his market moving forward? Can we afford that? Do we think he helps us?" said Snead, when asked specifically about Brockers. "That's where you got to get dispassionate to 2021, 2022 however long we were to sign him. Is it best for us to allocate those resources to another position in our human being? That's still yet to be determined."
Snead said the circuit of college all-star games starts in a couple weeks, so this week is a normal routine of trying to finish out draft meetings. The goal is always to get it done before Jan. 1 regardless of whether or not the Rams are playing in postseason.
After that, Snead will take the next week or two to let the negative emotions of a disappointing season dissolve in order to make sound decisions that will keep the Rams in a position to contend in 2020.
"That's that's our goal, we think we can accomplish that," Snead said. "I always say there's nothing ever guaranteed, especially in sports, but that's what we're betting on."