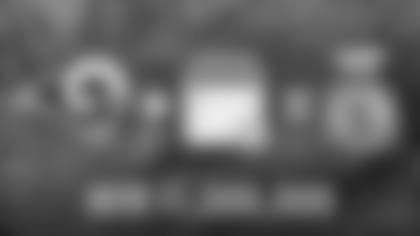 The Los Angeles Rams are launching the Guess Our Games contest, giving fans a chance to win one million dollars for correctly guessing the Rams 2017 schedule.  Fans may visit www.therams.com/guessourgames to enter the contest through Friday, March 31.
In order to be eligible to win, a participant must properly identify each of the 16 Rams 2017 regular season games by picking the correct week of the NFL season and the day of week for each of the eight home and away contests. In addition, the Bye Week must be correctly selected.
Participants must be at least 18 years old to enter and only California residents are eligible to win. The contest is limited to one entry per person and email address.
ENTER HERE: GUESS OUR GAMES
Los Angeles Rams 2017 Regular Season Opponents
Home
Arizona Cardinals*
Houston Texans
Indianapolis Colts
New Orleans Saints
Philadelphia Eagles
San Francisco 49ers
Seattle Seahawks
Washington RedskinsAway
Arizona Cardinals
Dallas Cowboys
Jacksonville Jaguars
Minnesota Vikings
New York Giants
San Francisco 49ers
Seattle Seahawks
Tennessee Titans
*Game to be played in London at Twickenham Stadium