Los Angeles, CA - Loyola Marymount University and the Los Angeles Rams today announced a partnership, making LMU the Official Higher Education Partner of the Rams.
"As we merge the rigor of academia with that of the gridiron, we empower our students to grow, learn, and compete as champions," said LMU President Timothy Law Snyder, Ph.D. "Joining forces with the Rams, a team and organization that exemplifies on-field prowess and off-field astuteness, solidifies our collective excellence."
With the top-ranked university teaming up with the professional football organization, the partnership will create educational opportunities for both LMU students and faculty as well as Rams players, coaches and staff. LMU and the Rams will work together to enhance the student experience with education initiatives; mentorship, internship, and career opportunities; access to case studies as part of sports and entertainment courses; and in-class appearances by Rams executives.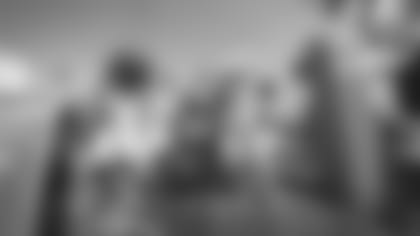 "We are thrilled to welcome LMU to the Rams family and are proud to bring football back to campus," said Rams Chief Operating Officer Kevin Demoff. "With our stadium a few miles from campus, our deep roots in Los Angeles, and our shared commitment to our city, this is a perfect partnership. We are looking forward to building together impactful programs that will benefit both members of the LMU community as well as our players, coaches and staff."
As part of the partnership, LMU and the Rams will debut co-branded campaigns in the L.A. region as well as an LMU visibility at SoFi stadium and across Rams social and digital channels.
The Rams and LMU kicked off the partnership on LMU's campus as part of their weekly Wellness Wednesday series. Snyder and Demoff were joined by Rams Chief Commercial Officer Jennifer Prince and several Rams staff who are LMU alumni. Students had the opportunity to take photos with Rams mascot Rampage, LMU mascot Iggy the Lion, and the Los Angeles Rams Cheerleaders, as well as with the Rams championship trophies from both the 1999 and 2021 seasons.
During the festivities, the Rams and LMU announced "LMU Day at the Rams," which will take place on Sunday, December 3 when the Rams host Cleveland. As part of the day,LMU will have an activation space on-site for fans to interact with and LMU content will be featured in-game on the Infinity Screen. In addition, LMU Alumni and students will have the opportunity to access an exclusive discount to tickets to that game as well as participate in LMU hospitality on-site.