Pro Football Focus (PFF) has a team of more than 300 staffers evaluating every NFL play from the Hall of Fame game to the Super Bowl. After each game, players, as well as each team's offensive, defensive and special teams units, are graded on a scale of 0 to 100; the closer a player or unit is to 100, the better. A full explanation of their evaluation process can be found here for additional context.
Here's a look at some of the noteworthy Rams-centric assessments through the first five weeks of the season.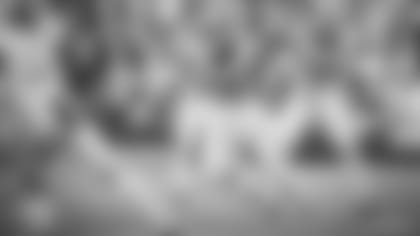 FOWLER CONTRIBUTING TO BOTH RUN AND PASS DEFENSES
Last month, Rams defensive coordinator Wade Phillips said OLB Dante Fowler Jr. doesn't get enough credit for ability to impact the run defense. Now, that part of his game is getting due notice.
Fowler's run defense grade of 73.5 is fifth-highest among all L.A. defensive players through the first five weeks of the season. PFF's evaluation of Fowler marked from last week's game at Seattle gave him his second-best performance of the season against the run.
When it comes to slowing opposing passing attacks, Fowler's coverage grade of 76.5 ranks fifth on the team.
TE Gerald Everett had a career performance against the Seahawks, and PFF's evaluation further reinforced this.
Playing a season-high 58 snaps, the former South Alabama standout posted his highest offensive and receiving grades since Week 2 of the 2018 season with a 90.1 and 90.5 respectively. Overall, it's just the fourth time in his two-plus seasons he's graded out at 90.0 or higher in each of those categories.
A 90.0 or higher is considered an elite grade by PFF, and Everett and Tyler Higbee were the only two rams to earn it in Week 5.
IF HAGER RETURNS, RUN DEFENSE STANDS TO BENEFIT
ILB Bryce Hager missed last week's game with a shoulder injury, and while he's making positive progress, no determination has been made yet on his status for Sunday's home contest against the 49ers.
If he does return, the biggest impact will be felt in the run defense. Hager is the highest graded ram when it comes to that phase of the game, posting a 79.3 across four games.
Given that San Francisco will take the NFL's top rushing offense into this week's game, Hager's availability figures to be an important development.