After a 30-29 loss to the Seattle Seahawks last week, the 3-2 Rams get another shot at claiming their first divisional win of the season by hosting the undefeated and NFC West-leading San Francisco 49ers (4-0) on Sunday at Los Angeles Memorial Coliseum.
Los Angeles and San Francisco last squared off on December 30, 2018, a 48-32 L.A. win. Of note, this will be the first time the Rams will be preparing for 49ers starting QB Jimmy Garoppolo since December 31, 2017 because of a torn ACL Garoppolo sustained in Week 3 against the Chiefs last year.
In advance of the game, here's an early look at the 49ers, including notable additions, their top statistical performers so far, where they rank in certain statistical categories and key storylines.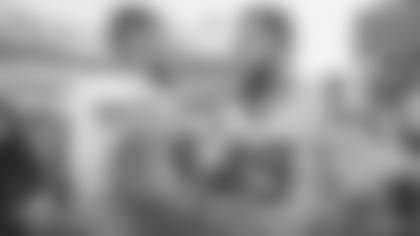 Signed RB Tevin Coleman as an unrestricted free agent in March. Now in his fifth NFL season, Coleman has amassed 550 carries for 2460 yards and 19 touchdowns, plus 94 catches for 1043 yards and 11 scores across 58 career games. The former Indiana University standout spent his first four seasons with the Atlanta Falcons, who chose him in the third round of the 2015 NFL Draft. Upon signing a two-year deal with the 49ers, Coleman reunited with head coach Kyle Shanahan who was Coleman's offensive coordinator during his first two seasons in Atlanta.
Traded for Chiefs LB Dee Ford in March. Ford spent his first five seasons in Kansas City, finishing second on the team with a career-best 13 sacks in 2018. Now playing along the defensive line, his three sacks share with top draft pick Nick Bosa for most on the 49ers this season.
Garoppolo completed 20 of 29 pass attempts for 181 yards and two touchdowns in the 49ers' 31-3 win over the Browns on Monday Night Football.
San Francisco had more rushing yards (275) than Cleveland had total yards of offense (180), keyed by Matt Breida and Coleman. Breida finished with 11 carries for 114 yards, his lone touchdown coming on the first play of scrimmage – an 83-yard run. He also chipped in three receptions for 15 yards and one touchdown. Coleman registered 16 carries for 97 yards and one touchdown.
TE George Kittle was on the receiving end of Garoppolo's other touchdown, adding a team-high six catches for 70 yards in the victory.
Defensively, Bosa had his best game of the season, finishing with four total tackles, two sacks, one safety and one forced fumble. CBs Richard Sherman and K'Waun Williams each tallied an interception.
On special teams, kicker Robbie Gould missed three of his four field goal attempts but converted all four of his extra point attempts.
Points Per Game: 2nd (31.8)
Yards Per Game: 4th (427.2)
Passing Yards Per Game: 22nd (227.2)
Rushing Yards Per Game: 1st (200.0)
Points Allowed Per Game: 4th (14.2)
Yards Allowed Per Game: 2nd (257.5)
Passing Yards Allowed Per Game: 2nd (175.8)
Rushing Yards Allowed Per Game: 5th (81.8)
Early storylines to watch, and what they mean for the Rams
The 49ers are among the NFL's most committed teams when it comes to running the ball.
Their 154 carries as a team share with the Seahawks for third-most rushing attempts in the league through the first five weeks of the season, averaging 200 rushing yards per contest. It speaks to San Francisco's talented group of running backs between Breida, Coleman and Raheem Mostert.
Given the number of quality options in the 49ers backfield, this could very well end up being one of the toughest tests for the Rams' run defense this season.
A dominant running game like that also impacts time of possession. If the 49ers are able to establish the run and control the clock, it will place an increased emphasis on the Rams' offense capitalizing on each possession it gets.