Pro Football Focus (PFF) has a team of more than 300 staffers evaluating every NFL play from the Hall of Fame game to the Super Bowl. After each game, players, as well as each team's offensive, defensive and special teams units, are graded on a scale of 0 to 100; the closer a player or unit is to 100, the better. A full explanation of their evaluation process can be found here for additional context.
Here's a look at some of the noteworthy Rams-centric assessments leading into Week 17.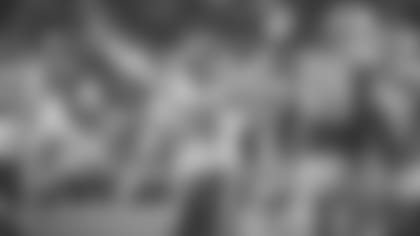 FOWLER PRODUCES ELITE PERFORMANCE
Outside linebacker Dante Fowler produced his second-highest overall defense and pass rush grades of the season against the 49ers last week, finishing with a 90.2 in the former category and an 89.3 in the later.
The scouting service considers a 90.0 or higher an "elite" grade.
Fowler finished with 2.5 sacks in Week 16, just half of a sack shy of finishing with three for the second time in his career. Both grades were highest among all Rams defensive players who saw snaps against the 49ers.
ANOTHER STRONG GAME FOR HIGBEE
Tight end Tyler Higbee's consistency was rewarded for the fourth straight week, as he recorded his second-highest overall offense and receiving grades of the season against San Francisco. He finished with an 86.0 in the former and an 89.4 in the latter.
Not only were those marks best among all Rams offensive players who got playing time in Week 16, it also boosted Higbee to the top-graded Rams offensive player and receiver this season.
RAMSEY ENDS HIS SEASON ON A HIGH NOTE
Though a strained lateral collateral ligament against the 49ers will keep cornerback Jalen Ramsey out of the season finale against the Cardinals, his performance against San Francisco still offered positives to take into the offseason.
Recording his first career interception in Week 16, the former Florida State star posted the second-highest overall defense grade (85.2) and coverage grade (86.1) of any Ram against the 49ers. The pick alone, though, doesn't tell the whole story of how effective he was for L.A.'s secondary: He allowed receptions on just two of the five targets his way, surrendering just 12 receiving yards.
The 40 percent of targets caught and 12 receiving yards allowed matched season-lows in games which Ramsey has been targeted.