On Wednesday, March 7, the Los Angeles Rams visited Union Avenue Elementary to recognize LAUSD's Student and Teacher of the Month in partnership with CBS-2/KCAL-9. As part of the celebration, fourth grade student Skyler Imperialbobis and first grade teacher Ms. Samantha Pulliam were honored in an all-school assembly in which CBS' famous sports anchor Jim Hill and Rams Tight End TYLER HIGBEE praised their achievements. Higbee also awarded each honoree four tickets to the Rams' 2018 season opener and encouraged Skyler to keep pushing himself before thanking Ms. Pulliam and all the teachers for the time and effort they put into educating our youth.
"To Ms. Pulliam and all the teachers here at Union Avenue Elementary, I want to thank you because you're the ones that lead the way and make everything happen," said Higbee. "The time and effort that you put in is second to none and I want to personally thank you."
With a strong passion for teaching, Ms. Pulliam serves as a perfect example of an educator who has dedicated herself to improving the lives of her students and their families. She recently obtained the high achievement of becoming a National Board Certified Teacher in Literacy and is fully committed to teaching all her students how to read. Even from a young age, Pulliam would accompany her mother, who taught at Union Avenue in the same classroom, leaving her destined to be a teacher at the school her mom once served.
"I've known since I was a kid that this was what I wanted to do because I saw the difference it made in kids lives," said Pulliam. "I wanted to make an impact like that. As soon as I heard that Union Avenue Elementary had an opening, I knew that this is where I belong because my heart has always been here. I didn't choose this, it chose me."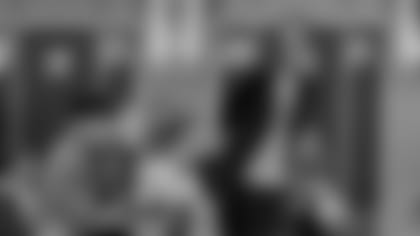 Excelling in all academic subjects, Skyler Imperialbobis makes an effort to help his peers in the classroom in areas they might be struggling. He enjoys science fiction movies and books, and is currently writing a script for the school's Youth Cinema Project. On a day that Skyler surely won't forget, he made sure to express his gratitude for those who continue to support him on his journey.
"I feel very honored to have been chosen to receive this award and I'll always remember this moment in my life," said Skyler. "I have to say thank you to all the people that have helped in school and at home and I appreciate everything the people in my life do to help me achieve my goals. Having so many important and famous people, like Tyler Higbee, come out to my school to honor me and hearing them speak about my accomplishments felt great. This is the biggest thing that has ever happened to me and it's one of my favorite days in my entire life."
Before Skyler took his bow in front of the cheering student body and staff, CBS' legendary sports anchor Jim Hill made sure to remind Skyler that his efforts are not only important for he and his family, but for our society at large.
"Skyler, we need you," said Hill. "We need your enthusiasm, knowledge, and we need you to be the very best you can be. Our country is going to keep improving because of people like you."
Union Avenue Principal, Veronica Herrera, believes the event was a great opportunity to expose her students to role models and opportunities within our LA community while recognizing a few of the school's exceptional performers.
"I think this is a wonderful opportunity for students to really get to see the world and the opportunities out there," said Herrera. "Today they saw all these wonderful role models and it shows them that good things can happen in their lives. We're a hub to many different students from many different parts of the world and this is to connect with people in our community who are wonderful and who care."
Before the assembly was dismissed, tight end Tyler Higbee wanted to leave the student body with one last piece of advice about the role education played in his own journey.
"Even as a professional football player now, it all started here in the classroom," said Higbee. "Growing up, I wasn't able to be out on the field unless I got my grades right. So make sure you're staying in school and being responsible, because none of this would have been possible for me without getting my education first. That's the most important thing that led me to where I am today."
Other notable members in attendance were LAUSD's Board President Monica Garcia and Local District Superintendent Roberto Martinez from Local District Central.
This was the second of seven events the Rams will be hosting with CBS-2/KCAL-9 to recognize exceptional students and teachers throughout the district. For more information about the Rams community events, please visit therams.com/community.