Because of where he was raised and the high school coach he played for, Pat Thomas had a head start in his race to an All-Pro career with the Rams.
It would be a race littered with checkered flags.
From Plano, Texas, where he played cornerback, running back and kicker for the city's legendary coach John Clark, Thomas went on to become a two-time consensus All-American cornerback at Texas A&M, and thought the next step of his football career would continue to be in the Lone Star State.
"John Clark was good friends with the Dallas Cowboys' Tom Landry, and Tom Landry would come to Plano when I was a kid," Thomas said. "And then when I was at A&M, I knew Tom Landry, as well. I was the No. 1 defensive back coming out and they said that I was going to be the first defensive back drafted.
"Well, I wound up not being the first one drafted. The Cowboys drafted Aaron Kyle instead of me. And then right before Dallas' second draft choice, the Rams got the choice right before them and drafted me. So I was a bit surprised."
Thomas was selected in the second round of the 1976 NFL Draft. Given jersey No. 27 from the Rams, he was also initially given a cold shoulder from his new teammates.
"It was a hard transition for me because all of the veterans were upset because they had a guy named Al Clark that was there who was a really good friend with all of them. They wind up letting him go to get me in. And so people weren't very friendly with me to say the least," Thomas said with a laugh. "I had to really work my way into being a part of the Rams community."
Fortunately for Thomas, there was one member of the community who was friendlier and more than helpful than the others.
"I'll never forget coming in, Monte Jackson was there, and Monte Jackson was one of the most outstanding defensive backs that I've ever been around," Thomas said. "He actually taught me how to use the back pedal in order to keep position on receivers as opposed to just lining up and running with them."
"He was really responsible for teaching me a technique that even though I was a two-time All-American, what he taught me allowed me to use my mental capacity more than my physical capacities."
"My first year, I didn't start. But my second year, I did. And so once I got in the starting position, things started to jell a lot better."
Finishing that season tied for second on the team with five interceptions, Thomas co-led the Rams with eight picks the following year, one that he returned 33 yards for a touchdown against the New York Giants, and was chosen to play in the Pro Bowl.
"I started building confidence pretty much all of my life coming to the Rams," Thomas said. "So when I started my second year, it was like I was supposed to be there to help them win a championship. I didn't come there just to play football. I came to be on the best team in the NFL.And so, playing for me, that first year starting, it was like if we're going to be the best team out here, I am going to have to be a big part of that.
"By the end of my career, the defensive backs that played with me, Rod Perry and Johnnie Johnson and Nolan Cromwell, that was the plateau that we set. If you were going to play for the Rams, you were going to be one of the best."
One of the best cornerbacks in the league during his seven seasons with Los Angeles, Thomas had 26 career interceptions, was an All-Pro in 1980 and two-time Pro Bowler. During the 1979 campaign, he helped the Rams win the NFC Championship and play in Super Bowl XIV.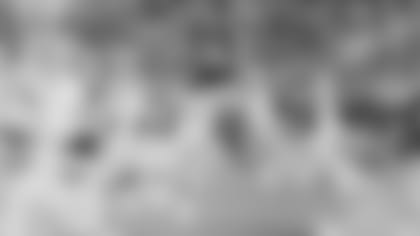 Thomas's success on the football field led to success in his post-playing career.
"The thing that I treasure more than anything else is that I coached after I played. And the things that I did as a player allowed me to have, I don't know, 15 players as All-Pros and All-Americans. I coached them with the philosophy that I used as a player," Thomas said.
"My greatest asset was that I put everybody that was on the team, on my shoulders. I played for them. I never played for me. I never played for accolades. I wanted to play for the people that I was with, that was on my team.
"And John Clark, that was our motto at Plano. We play for each other. When you line up, it's not about you. It's about these people that you playing with and the city of Plano. That has been the way that I've always felt and believed. That was the things that you do in order to get to the Super Bowl and get to the top. You've got to play for a higher goal than you. And if you do that,you can become a champion."
Thomas coached defensive backs for the USFL's Houston Gamblers and at the University of Houston before moving on to the NFL for 10 seasons working as an assistant coach for the then-Houston Oilers, Indianapolis Colts and Buffalo Bills.
And after owning and operating a construction company in Buffalo for seven years, Thomas coached at high schools in Buffalo and Galveston, Texas.
"You know, what I enjoyed most is teaching kids and people how to win in life. The same tools and things that it takes to win in life is what it takes to win on the football field," Thomas said. "And being able to see that element come true over and over and over and over again, just made me feel good about the blessings that the good Lord had given me, so that I can give it to other people. And they can be successful and can help other people be successful doing the same things I did. That kind of sums it up for me, actually."
Now enjoying retirement in suburban Houston with his wife, Lenith, Thomas has four children: Heather McCarthy, Patrick Jr., Tamara, and Joshua; and three grandchildren.