After three-plus years, and leading the Bills in rushing two seasons, Greg Bell wanted to leave Buffalo in 1987 for greener pastures. Literally.
"I had tried to put a deal together to go to Miami," said Bell, who was a first-round draft choice out of Notre Dame and Pro Bowler in 1984. "I just wanted to be on natural surface. I had torn my abdomen on the bad turf that Buffalo had back then.
"We had tried to put together a trade in our same division and Buffalo didn't want to deal with that. We were just hoping that we could get into a deal. Not caring really what the principal parts of it were, just as long as I was getting out of Buffalo, and getting off the turf."
Bell got what he wanted, and the Rams' trick-or-treat bag was stuffed following a Halloween day three-team blockbuster.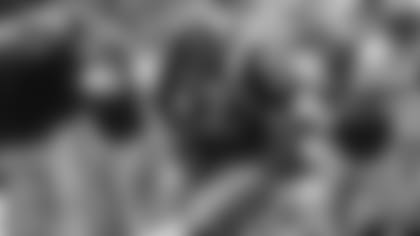 The Indianapolis Colts traded rookie hold-out linebacker Cornelius Bennett to the Buffalo Bills for a first-round pick in 1988, first- and second-round picks in 1989, and Bell.
The Colts then traded Bell, the three draft choices acquired from Buffalo, plus first- and second-round picks in 1988, a second-round pick in 1989, and running back Owen Gill to the Rams for Eric Dickerson.
"It was a three-way deal that was going to benefit all three sides," Bell said. "I knew what I was capable of doing. I knew what Eric was capable of doing. The question mark probably was what was 'Biscuit' [Bennett] going to be? But he was one of the top college players, so we knew he was going to probably be a great player, as well."
Excited to be joining the Rams and looking forward to playing on the grass field at Anaheim Stadium, Bell wasn't initially certain if head coach John Robinson shared the same feeling.
"No one called me. Nothing," Bell said. "My first talking to John Robinson is when I flew out here. It was just crazy. John had no anticipation. He was taking what he got delivered.
"He drafted Eric because he wanted Eric. And to lose a premier back at that time probably was going to disappoint anybody, especially a guy like John Robinson, who loved running the ball.
"He said Charlie (White) was playing very well for him at that time and, 'We're going to keep going with what we've got. And where you can fit in, you'll fit in.'"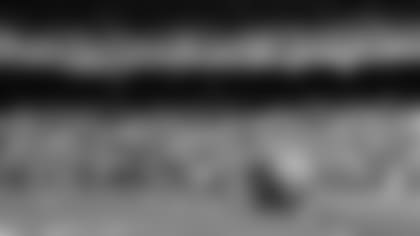 In 1988, his first full season with the Rams, Bell fit in and then some. Rushing for a team-high 1,212 yards, he led the NFL with 16 touchdowns.
"I knew I would be a large part of the offense because of John Robinson," Bell said. "John loved running the ball. No matter how much Jim Everett's development was coming and things of that nature, we're still talking about John Robinson. The student body right, student body left, counter trey, that was his history. So I knew I was going to get an opportunity to carry the ball."
The opportunities continued the following season when Bell again rushed for a team-high 1,137 yards and led the league with 15 touchdowns.
That was also the year Los Angeles posted an 11-5 record and reached the NFC Championship Game against San Francisco. How they got there is among Bell's fondest memories as a Ram.
"Going back to Philadelphia to play (in the NFC Wild Card Game) after just beating the New England Patriots (in Foxborough, MA in the regular-season finale), to this day, they say that's the greatest defense in NFL history. But then we must have been the greatest offense because we put something on Buddy Ryan's defense that made him stop talking for a while," Bell said of the 21-7 victory, when he rushed for 124 yards and a touchdown.
"I laugh because you turn around the next week and go and play against the second-greatest defense, the New York Giants (in the divisional round). I remember L.T. [Lawrence Taylor] before that game, 'Yeah, we're going to have to put a lockdown on Greg. We're not going to let him run like he did against Philadelphia.'
"But then what tends to shut people up a lot of times is that they forgot that we had a wide receiver who should be in the Hall of Fame, Henry Ellard. And you had Flipper Anderson and Aaron Cox and Ron Brown. We had more speed than they had ever seen before.
"I think about that team and I hate to say that we were the second-best team in the league. But other than the 49ers, we pretty much had a lock on beating pretty much everyone else. I wish we could have completed it, won for the city of Los Angeles."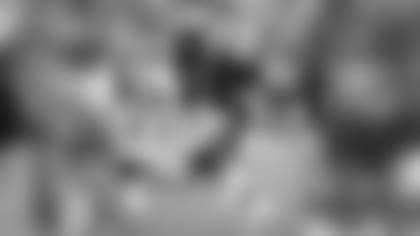 The father of three adult children: Chanel, LeShon, and Rami; Bell remained in Southern California following his seven-year career with the Bills, Rams, and Raiders, and makes his home in Santa Barbara.
After working with New York governor Mario Cuomo and the Athletes Against Drunk Driving and Drug Prevention, and with Nancy Reagan's "Just Say No," Bell founded the Athletes for Life Foundation in 1989.
"I had a traumatic situation hit me where one of my closest friends on Earth, Stacey Toran, who was an all-star strong safety for the Raiders, killed himself in a drunk driving accident," Bell said. "I decided at that point, that if somebody that close to me wasn't hearing the message, I needed to do something for myself.
"And so that's how the mission of Athletes for Life got started, as an anti-drunk driving and drug provision. Really, because I lost my best friend to a drunk driving accident that I wish I could have helped him avoid."
In 2000, after meeting with school superintendents across the country, Bell widened the focus of the foundation. Its mission stayed the same, to help kids live their dreams and live an alcohol- and drug-free life, but it also began getting into educational services and having after-school programs for school districts in San Bernardino and Los Angeles counties. And there's a possibility it will expand to the Long Beach and Carson areas this coming school year.
"So many kids have all been educated – go to college, go to college, go to college. And we're starting to see now in our society because of technology, there's a fortitude of kids who are going straight from high school into the job force because they've got that gift. And so we're trying to help bring back programs like electronic tech positions, mechanics, carpentry, plumbing," Bell said.
"We work with ROP [Recreational Occupational Programs] here in Southern California. It's really a great program for kids who are non-traditional, that group of kids who are great at what they do with their hands. They could be great floorers. Contracting work is probably the No. 1 work in America right now. You can't find enough of them.
"It blew me away when the guy from Keller Interiors said, 'Greg, if I can get kids to be interested in flooring, I'll guarantee them a starting salary at $95,000. I'm dead serious. I need floorers. The more I get, the more I can work. I just don't have enough manpower.'"